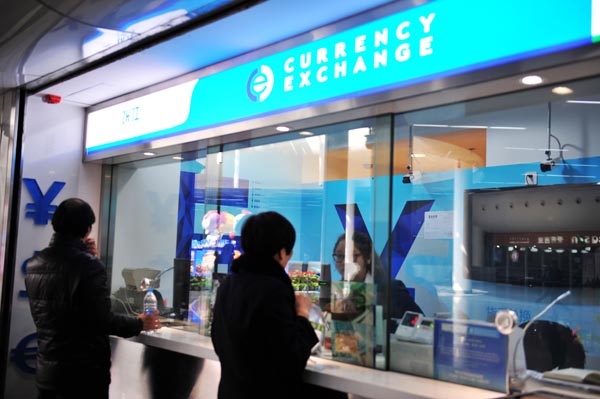 A currency exchange counter at a subway station in Shanghai. The yuan closed at 6.1781 to the dollar on Monday, down 285 basis points from Friday. Provided to China Daily 
A more flexible and volatile exchange rate is likely to give riseto more genuine participationand less speculation, reports Gao Changxin from Shanghai
The good old days are gone when speculation simply refers to acquisition when it comes to the Chinese yuan.
Now that the decade-long expectation of appreciation is in tatters, traders will have to use more brain than brawn if they want to keep themselves in the game.
While the central bank has always preached the idea of a free-floating yuan, the People's Bank of China finally practiced it by doubling the currency's daily trading band to 2 percent on either side of the daily reference rate.
Zhou Xiaochuan, the central bank governor, has been pushing the idea for years, but traders really started to embrace it this time as their long positions suffered badly from a nosedive in the yuan's exchange rate.
The yuan lost 1.4 percent in February along with another 1.2 percent lost so far this month, following 10 years of appreciation.
Morgan Stanley estimated that $150 billion of redemption forward contracts - a main tool to bet on yuan's appreciation - remains in the market.
And, assuming contracts are 24 months in tenor, investors will see about $4.8 billion in total losses for every 100 basis points the yuan reaches above the level of 6.20 per dollar.
But what really caused them to rethink their strategy were remarks by another governor from the other side of the globe.
Last week, United States Federal Reserve Chairwoman Janet Yellen raised the possibility of an earlier-than-anticipated rise in US interest rates next year.
At a scheduled meeting, Yellen said a further cutback on the bond-buying program, by $10 billion to $55 billion a month, and adjusting its guidance on interest rates. She added that the "considerable period" between the end of the Fed's economic stimulus program and the first rate increase could be six months, meaning that the first rate hike could happen as early as spring next year.
Higher interests rates in the US, analysts said, would reshuffle the pattern of international fund flow in place since the global financial crisis in 2008, driving funds back to dollar assets and weakening emerging market currencies, including the yuan, against the greenback.
After Yellen made the comments on Friday, the yuan continued to weaken against the dollar, trading as low as 6.22 at one point, its weakest level in more than a year.
| | |
| --- | --- |
| Yuan eases on widened trading band | |