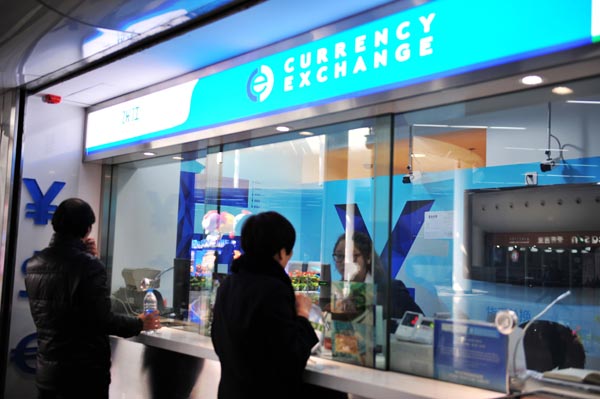 A currency exchange counter at a subway station in Shanghai. Provided to China Daily
BEIJING - The central parity rate of Chinese currency renminbi, or the yuan, depreciated for a third consecutive day to its weakest point in more than four months, new data showed on Thursday.
The yuan's central parity weakened 109 basis points to 6.1460 against the US dollar on Thursday, the weakest level since Nov 7, 2013, data from the China Foreign Exchange Trading System showed.
The yuan has weakened for three consecutive days since Tuesday.
The People's Bank of China, the country's central bank, widened the yuan's daily trading band in the interbank spot exchange market from 1 percent to 2 percent on Monday.
This means the yuan is allowed to rise or fall by 2 percent from the central parity rate on each trading day.
The move is aimed at enhancing the exchange rate's floating flexibility, facilitating its economic restructuring and beefing up the market's decisive role in allocating resources, the central bank said.
The central parity rate of the yuan against the US dollar is based on a weighted average of prices offered by market makers before the opening of the interbank market each business day.
Chinese banks see forex surplus in February
Slump seen in net foreign exchange purchases
Direct currency trading begins with New Zealand
Do not hype yuan fluctuation: MOC