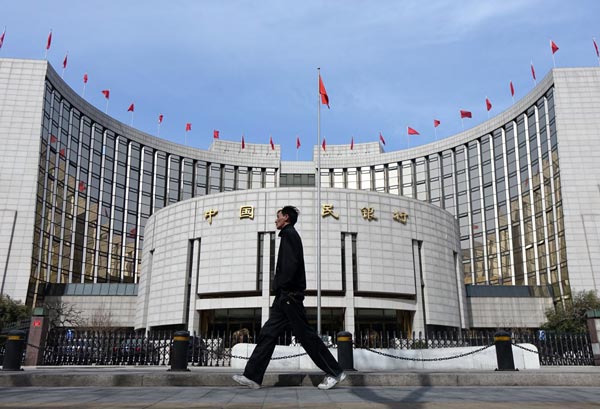 The headquarters of the People's Bank of China, the nation's central bank, in Beijing. Provided to China Daily

China's net foreign exchange purchase was 128.25 billion yuan ($20.71 billion) in February, the latest statistics from the central bank showed on Tuesday.
But the net forex purchases fell sharply from 437.4 billion yuan in January, hitting their lowest point since September 2013.
Sun Junwei, China economist for HSBC Holdings Plc, said the drop reflects the impact of China's adjustment of the yuan's exchange rate.
The yuan weakened against the US dollar on Monday after the People's Bank of China, the nation's central bank, widened the yuan-dollar daily trading band to 2 percent on either side from 1 percent around the daily midpoint rate.
Sun noted that the PBOC has been fixing the daily midpoint for the yuan's level against the US dollar recently.
Due to the latest adjustment, the yuan exchange rate against the dollar has fallen nearly 1.9 percent since Feb 17, she said.
"A series of actions showed that China's decision-makers are unwilling to see continuous capital inflows," she said.
"They want to dispel strong expectations for yuan appreciation by having a more flexible exchange rate. Two-way fluctuations of the yuan will bring two-way cross-border capital flows," she added.