Tough times seen for industry as exports contract for the second consecutive month
China's trade momentum fizzled out in March, with imports and exports unexpectedly declining in what analysts said was yet another sign of economic deceleration - and a warning of prolonged difficulties for manufacturers.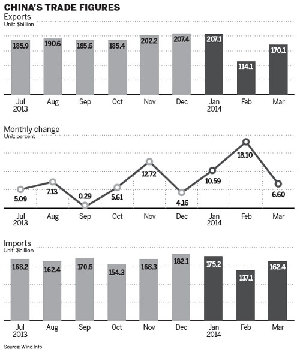 Li Yi / China Daily
Total trade contracted 9 percent to $332.5 billion, the Customs Administration said on Thursday. Exports tumbled 6.6 percent year-on-year to $170.1 billion after dropping 18.1 percent in February. It's the first time since 2009 that exports declined for two consecutive months.
An even bigger downside surprise lay in the figure for imports, which contracted 11.3 percent to $162.4 billion in March. Imports increased about 10 percent in January and February.
The trade balance swung to a larger-than-expected surplus of $7.7 billion from a deficit of $23 billion in February.
First-quarter exports fell 3.4 percent, while imports rose 1.6 percent, producing a trade surplus of $16.7 billion, down 59.7 percent from a year earlier.
Zheng Yuesheng, a spokesman for the customs agency, told reporters in Beijing that the main reason for the export decline in March was "weak demand in Hong Kong".
Exports to Hong Kong fell 43.6 percent in March and 31.3 percent in the first quarter, according to Barclays Research.
"We maintained steady growth with our major trading partners, witnessing a large decline in trade only with Hong Kong", Zheng said. "But exports to Hong Kong will experience a clear rebound from May onward, driving up the growth in overall exports and trade."
Elsewhere, the figures were more in line with expectations. Trade with the European Union, the country's largest trading partner, increased 6.3 percent year-on-year in the first quarter to 836 billion yuan ($134.7 billion), while trade with the United States edged up 1 percent to 749 billion yuan, highlighting a tepid economic recovery that's likely to continue for the rest of this year.