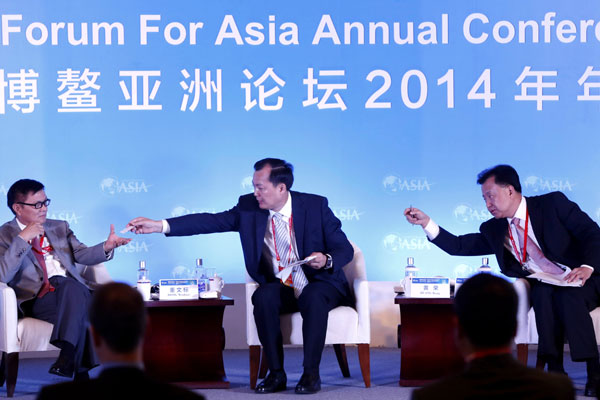 From right: Yan Qingmin, vice chairman of China Banking Regulatory Commission, Huang Rong, vice chairman of the All-China Federation of Industry and Commerce, and Dong Wenbiao, chairman of the directors board of China Minsheng Banking Corporation Ltd help pass a business card at a panel discussion. Bao Fan / for China Daily
Borrowing costs soar for MSEs forced to rely upon expensive private lenders
Micro and small enterprises are still facing financing difficulties despite the government's efforts to support the development of MSEs since 2008.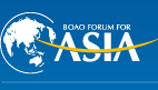 Bankers and economic experts called for a reform of financial services and a design more appropriate for MSEs at the Boao Forum for Asia in Hainan province on April 8.
According to a survey of 1,027 MSEs in 17 provinces, autonomous regions and municipalities, nearly half said their costs of borrowing increased in 2013 and the loan interest rates went beyond 10 percent.
"Many micro and small enterprises cannot receive bank loans due to lack of collateral. They are forced to turn to private lending whose annual interest rates hit 20 to 30 percent," said Huang Rong, vice chairman of the All-China Federation of Industry and Commerce. "To solve the problem, financial institutions must make innovations of their products and services."
For a business with assets of less than 3 million yuan ($484,114), private lending still remains a major source of capital, suggesting that commercial banks still have room for improvement.
Last year, of the MSEs surveyed about 15 percent relied on private lending as their main source of capital, while more than 30 percent relied on small and medium-sized banks.
Only 12.4 percent relied on large banks, according to a report based on the survey.
Nearly 20 percent of the MSEs surveyed said their demands for capital were not met in 2013 although 40 percent had their needs satisfied. Among the surveyed enterprises that received loans successfully last year, 57 percent have medium to long-term capital demands, almost double that of the previous year.
"Some people say it's too risky for banks to make loans to micro and small enterprises and the costs of lending are too high. This kind of biased mindset must be changed to make a breakthrough in micro and small business finance," said Dong Wenbiao, chairman of the directors board of China Minsheng Banking Corporation Ltd.
"Apart from that, we should seek new business models and design a financial system to better support the MSEs," Dong said.
His bank has more than 300,000 MSE clients with an average loan of 1.3 million yuan. The bank's loans to MSEs surpassed 400 billion yuan in 2013 and the ratio of non-performing loans of its MSE clients was 0.6 percent.