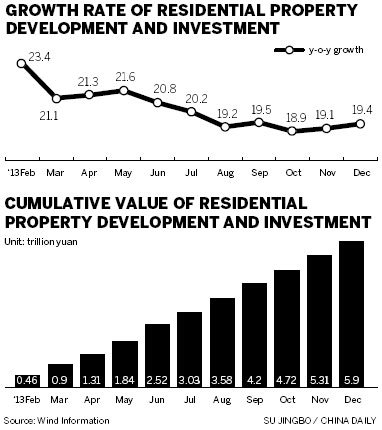 China's real estate policy will be more differentiated in 2014, while the growth in prices is expected to slow down, industry analysts said on Thursday.
In the near term, housing policy adjustments will be mainly at the local level because of regional differences, according to REICO, the research institution jointly created by the China Real Estate Chamber of Commerce and the China Urban Reality Association Fund. Innovative localized models to address housing difficulties such as shared ownership between the government and buyers will be encouraged.
First-tier cities and some second-tier cities where housing prices have grown fast introduced new tightening measures, mainly through adding restrictions on home purchases and mortgage lending or by being more restrictive in approving pre-sell permits.
According to statistics from the country's largest real estate portal owned by SouFun Holdings Ltd, home prices rose 22.2 percent in the top four cities (Beijing, Shanghai, Guangzhou and Shenzhen) in December, 9.2 percent in second-tier cities (mainly provincial capital cities) and 5.3 percent in third-tier cities.
In Beijing, Shanghai and Shenzhen, average housing prices all exceeded 30,000 yuan ($4,839) per square meter, while those in third-tier cities were 7,330 per sq m.
"The divergence of housing price dynamics across regions remains the key theme in 2014," said Zhu Haibin, China economist with JPMorgan Chase and Co.
The varying performances across different cities are mainly driven by demand-supply conditions at local levels.
First-tier cities generally face an under-supply situation because of stricter tightening on purchasing ability, less supply and stronger demand. By contrast, new supply increased faster in smaller cities. As demand tends to be sticky in smaller cities, it takes time to digest the increase in new supply and hence housing prices could face downward pressure in coming years.
Because the housing supply will pick up this year, owing to more new-start construction in 2013, industry analysts said home price growth will slow down this year.
"We believe overall property price growth will be tempered by more new supplies and the high base in 2013. And we expect property prices to grow 5 to 10 percent in first-tier cities, and 3 percent in second-tier cities, but be flat for other cities in 2014," said Jeffrey Gao, an analyst with Nomura Securities Co Ltd.
Meanwhile, China's real estate market will further consolidate this year, with major developers expected to outperform despite a tougher market than 2013, a report from Nomura Securities showed on Thursday.
Based on Nomura Securities' study, the top 20 developers had already gained a total market share of 22.9 percent by the third quarter of 2013, compared with 17 percent in 2012 and 18 percent in 2011.
"We favor names that represent big scale because they have advantages in financing and land acquisitions and have proven track records," said Gao.
"In addition, we don't see a sales cap for top developers so far. A good entry point should appear in late February or early March, with potential catalysts from strong 2013 results, easing of mortgage loans and good January and February sales," Gao said.