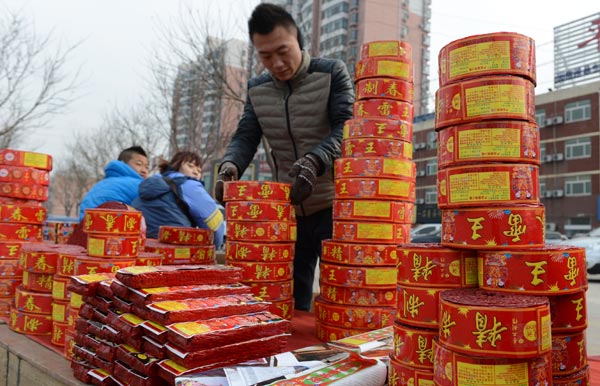 Sales of fireworks are down about one-third this year in Liaocheng, Shandong province. Lunar New Year, which, this year, falls in late January and early February, used to be the peak time for fireworks retailers. That's changed because of the government's anti-corruption and austerity drives and increasing public awareness of environmental issues. Kong Xiaozheng / for China Daily
More industries, ranging from high-end restaurants to luxury retailers, are feeling the pinch from the government campaign against corruption, report Wang Wen, Wang Zhuoqiong and Huang Ying
It's been a sluggish holiday season for Panda Fireworks Co Ltd, one of the leading fireworks producers in China.
"This year, there's been a big change in sales to corporate and institutional customers," said Cheng Peng, the company's marketing director.
Many of those customers are still buying fireworks to celebrate the Lunar New Year, or Spring Festival, which begins on Jan 31, but sales are down "dramatically" from last year.
Cheng said that some event organizers who formerly used fireworks to liven up their events have cut orders because there's been a decline in events and conferences since early 2013.
"Chinese fireworks manufacturers have been having a hard time recently," said Zhong Ziqi, director of the China Fireworks and Firecrackers Association.
Not all of the fireworks industry's challenges are new. Sales began to slump in 2012, as smog triggered bans on fireworks in many cities, said Zhong, who is also president of Dancing Fireworks.
Many cities are still cutting the number of licenses for fireworks distribution and sales, and, in many cases, vendors are abandoning the industry. In Beijing, only 747 retailers applied for the license examination this year, about 500 fewer than last year, according to the Beijing Administration of Work Safety.
In Beijing, the number of fireworks retailers may fall by one-third this year. The decline could be 50 percent in other cities, said a business source who declined to be identified.