Shrinking orders prompt small businesses to find fresh solutions for controlling costs
Getting professional advice on how to attract more buyers from overseas via business-to-business platforms is a new trend among small and medium-sized enterprises in China as the European financial crisis severely weakens the export industry.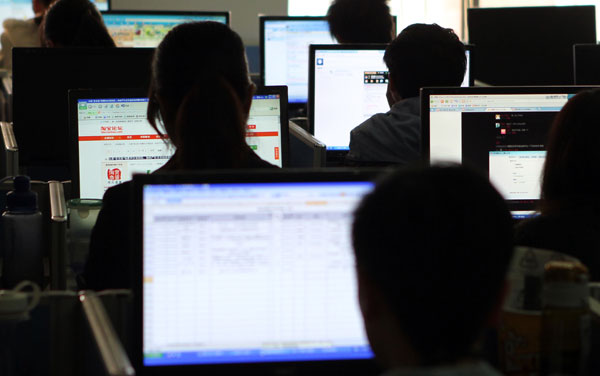 Employees of a small Chinese trading company checking e-commerce orders at their office. Many medium- and small-sized enterprises are seeking to develop their business through online platforms as the gloomy global economy has led to a sharp decrease in orders from regular overseas clients. Provided to China Daily 
B2B platforms are an essential tool for buyers around the world looking for a cost-effective way to connect with trusted supplier partners.
Wu Ailing, the manager of Shanghai Reaching Kayo Fashion Co, a Shanghai-based medium-sized clothes manufacturer, had never thought of expanding her client network through another company until she was introduced to Tradegood, a US-based B2B company mainly supplying professional services for manufacturers.
"We have had about 100 clients regularly placing orders from abroad mainly in the United States and also European countries over the past two decades," said Wu.
She added it had been difficult to find new clients to expand her network in the textile industry because she didn't have the resources to contact overseas companies.
The gloomy global economy led to a sharp decrease in orders from regular overseas clients so Wu and her team are seeking to develop their network to find more clients to maintain production levels at their factories.
Kayo was expecting zero growth in profits this year, a situation symptomatic of the majority of manufacturing-based enterprises.
"We decided to seek the B2B platform's help in obtaining a professional new look for our company profile and get to know more authorized global buyers from different countries," said Wu, who was introduced to Tradegood's office in Shanghai.
The Tradegood sourcing community was launched on Aug 20 in Las Vegas and has been used by about 3,000 buyers from more than 300 leading brands and retailers from 100 countries, as well as 20,000 suppliers, the majority of which are China-based companies.
"Tradegood opens the door for real suppliers to gain access to the world's biggest markets and serves as a crucial platform for suppliers to broadcast their capabilities to global buyers in the competitive sourcing environment," said William Quilindo, chief operating officer at Tradegood.
Related Readings
E-commerce boom brings shopping revolution

New milestone for Alibaba Group Holding

Alibaba to boost development of SMEs

China's B2B e-commerce Q1 revenue hits 2.9b yuan