Plans call for a California plant that will build up to 100 vehicles in 2014, 500 in '15
The Chinese battery and electric vehicle producer BYD Co Ltd will establish its first wholly owned manufacturing plant overseas in 2013, going to the United States to produce electric buses, a company executive has said.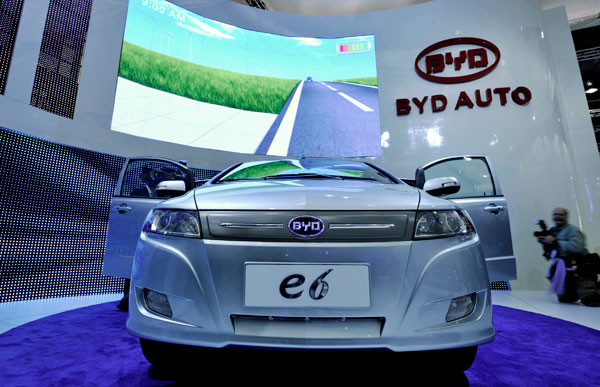 An electric car produced by BYD Co Ltd is exhibited at an auto fair in Detroit, the United States. The company will establish its first wholly owned overseas manufacturing plant in the US in 2013, a company executive has said. [Zhang Jun / Xinhua]
The factory will be in California, in an exact location to be announced in March or April, Xinhua News Agency cited Li Ke, BYD senior vice-president, as saying.
Speaking in Los Angeles, Li said the Warren Buffett-backed company will put the plant into operation in 2013 and will be able to produce 50 to 100 buses there in 2014.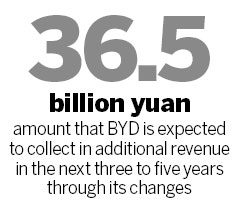 "Starting in 2015, the production capacity will exceed 500 vehicles."
Li said managerial and other positions at the plant will be filled with local residents, but some of the parts and production lines used there will come from China.
BYD's K9 electric buses, which have already passed road tests, will carry a price of $550,000 to $600,000 each. They will come to the US market in March and first be used at Apple Inc's headquarters in Cupertino, California; at Los Angeles International Airport; and at Stanford University, said Li.
The Shenzhen-based company last week signed a joint venture agreement with a Bulgarian company to set up its first factory to assemble electric vehicles in the East European country.
Situated near the country's capital, Sofia, the plant will mostly produce electric cars and buses. Starting in February, it will roll out 50 to 60 of the company's K9 electric buses each month, said Alexander Usachev, CEO of BYD's Bulgarian partner Bulmineral Ltd.
The operation will be further expanded by adding BYD batteries and LED lights to the products made there.
The move to Bulgaria comes as a result of BYD's ambition to use local production to bring its electric buses to more European countries. The company has signed agreements to export the vehicles to the Netherlands, Finland and Denmark.
Besides Europe, BYD also has agreements with local governments in Singapore, Uruguay, Canada and the US over the use of its buses in public transportation.