Weak domestic car market, poor global solar sector blamed for slump
BYD Co Ltd, China's battery and electric car maker, has warned that profits for 2012 are expected to be down as much as 98 percent over last year, due to a slumping domestic market which dragged down demand for its vehicles, mobile parts and solar-energy cells.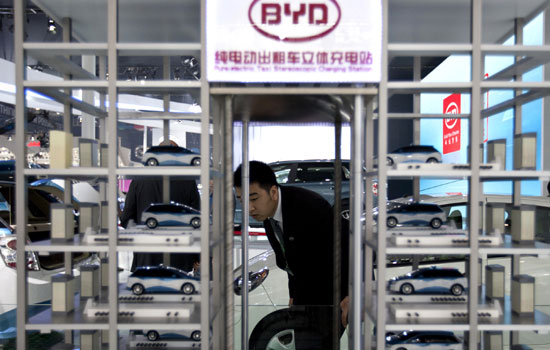 A BYD Co Ltd employee checks a model of a charging station at the 2012 Beijing International Automotive Exhibition in the capital city in April. The battery and electric carmaker has warned that profits for 2012 are expected to drop dramatically due to a slumping domestic market. [Photo/Agencies]
The Warren Buffett-backed company released its third quarter financial report on Monday, saying that in the first nine months, net profits slumped 94.08 percent year- on-year to 20.88 million yuan ($3.35 million), while revenues dipped 3.57 percent to 3.31 billion yuan.
In a statement filed with Shenzhen Stock Exchange, officials said third quarter net profits were 4.61 million yuan, a 94.04 per cent year-on-year decline.
The slowing economy meant BYD expects its net income for the whole year to shrink from 1.38 billion yuan in 2011, to between 27.7 million yuan and 110 million yuan this year, said the statement.
The Shenzhen-based company attributed the poor performance to the gloomy global solar energy cell market, and a stagnant mobile phone industry.
It also said the slowed automotive market added pressure to its vehicle business, which contributes to half of its revenue.
BYD shares on the Shenzhen Stock Exchange dropped 0.69 percent to close at 14.35 yuan on Monday, but its Hong Kong-traded shares gained 3.56 percent to HK$15.70 a share.
The revenue and profit declines looks like a serious setback for BYD's previous ambitions of having the most automobile sales by any Chinese company by 2015.
Last week, the company announced it had won a contract to supply 50 electric cars to London taxi firm greentomatocars, but the new figures reveal its automobile sales have slumped 18.09 percent from a year earlier to 77,004 units.
Statistics from the China Association of Automobile Manufacturers show that from July to September, the country sold 4.49 million units of vehicles in total, representing year-on-year growth of 4.31 percent.
The passenger vehicle sector grew by 6.67 percent over last year.
The slowing market, which has seen growth of more than 30 percent in 2009 and 2010 drop to low single digit growth today, has crushed the market share of homegrown automotive brands, who now lag behind foreign rivals.
The gloomy prospects amid a slump in earnings saw BYD's vice-chairman Yang Longzhong resign in September, although the company attributed his departure to a business restructuring and unspecified personal reasons.
The move came after six of its top executives, including Yang, cashed in 869 million yuan worth of company stock in July, followed by Yang cashing in another 119 million yuan worth in August.
However, Wu Wenzhao, an auto analyst with Sinolink Securities Co, said long-term "the future of BYD is not so pessimistic".
He added: "The recent launch of new models will boost sales. We expect vehicle sales to increase by 13.5 percent in 2013, after three-years of decline."
He also said that although the downtrend of the solar energy cell industry won't rebound in the short-term, "the situation is going to be eased".
lifangfang@chinadaily.com.cn