Despite robust growth in developed and developing markets, China's outbound direct investment will likely remain steady next year, in line with the country's new policy of focusing on stable economic development, experts said on Monday.
"Although Chinese buyers are playing a key role in the international market, their overseas investments may slow down in 2013 to guarantee capital security," said Mei Xinyu, a researcher at the International Trade and Economic Cooperation Institute of the Ministry of Commerce.
China's total non-financial ODI increased 25 percent to $62.53 billion from January to November, according to data released by the ministry.
In the first 11 months, Chinese companies invested directly into 3,598 foreign companies in 130 countries and regions, the ministry said.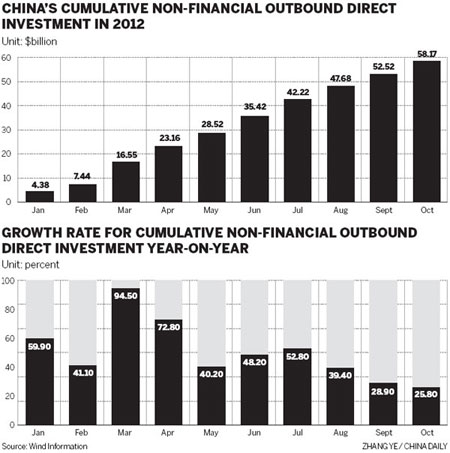 On the closing day of the Central Economic Work Conference on Sunday, top leaders said that boosting the quality of economic growth will be a central task in 2013, and emphasized their determination to ensure sustainable economic development after the previous pursuit of fast-track growth.
Over the past decade, China's ODI maintained an annual growth rate of 45 percent.
Earlier this year, the State-owned Assets Supervision and Administration Commission - the supervisor of 128 central State-owned enterprises, or SOEs - asked the companies to boost the management of their capital chain and cash flow.
Investments by central SOEs targeting expansion must be stopped and the money should be used instead to improve technology, products and the commercial models, the commission said.
Zhou Shijian, a senior trade expert at Tsinghua University, said a stability-oriented Chinese economy in the coming years may reduce companies' appetite for overseas investments, but the companies will still be willing to invest.
"Amid the global financial crisis, foreign markets, especially in developed economies, are eager for capital inflow, so it's a very good opportunity for Chinese companies to invest in developed markets, including Europe and the United States," Zhou said.
In the first 10 months of 2012, China's ODI in European Union countries declined 20.9 percent year-on-year to $1.58 billion. In the same period, ODI in the US increased 16 percent year-on-year, according to the ministry.
China Investment Corp, the country's $410 billion sovereign wealth fund, will invest in Europe, although the economies of Germany and France are poised to see a slowdown in 2013, Wang Jianxi, executive vice-president of the company, said on Sunday.
However, while buying assets in developed economies, Chinese investors are investing more in developing countries.
In the first 10 months, China's investment in members of the Association of Southeast Asian Nations, the second-largest overseas investment destination for Chinese companies, saw an increase of 31.2 percent year-on-year.
Ong Chong Yi, a minister counselor on economics at the Malaysian embassy in China, said earlier that Malaysia expects additional investment by Chinese enterprises with high added value to invest in the country, so that Malaysian industrial counterparts could gain access the high technology that they want.
baochang@chinadaily.com.cn