Businesspeople in various industries said they were encouraged by the promise of great opportunities in the statement issued on Sunday by the central government summing up the main points of the Central Economic Work Conference over the weekend.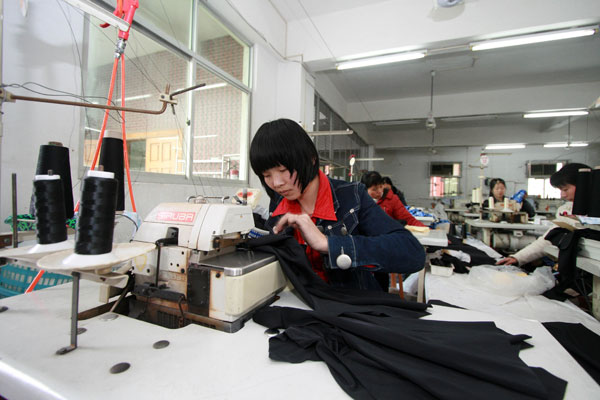 Workers at Fujian Jinjiang Aojin Knitting & Garments Co Ltd. Small and medium-sized enterprises are in dire need of financing due to rising costs and narrowing profit margins, experts said. [Provided to China Daily]
"We're encouraged by the government's pledge to create new growth by emphasizing domestic consumption and deepening economic reforms," said Chen Jun, deputy president of the Zhejiang Chamber of Commerce, in Beijing.
The conference, held at the end of every year since 1994, is seen as China's top-level economic meeting and a time for stretching out economic plans for the country in the following year.
Chen told China Daily that the statement is consistent with the 18th National Congress of the Communist Party of China report on the topics of driving up domestic demand and urbanization.
"Urbanization and rising domestic consumption will be able to drive the development of the property market, especially industrial property development," Chen said.
According to Chen, China's third- and fourth-tier cities have huge potential for such development.
"More supportive policies and attractive investment conditions are needed to unleash this potential," he said.
China's economy has slowed for seven consecutive quarters. This has dealt a serious blow to enterprises that manufacture mainly for export to the United States and Europe.
Shi Dingwei, general manager of Ningbo Matrix Sport Goods Co Ltd is one of the numerous Chinese entrepreneurs feeling the pinch.
"We have seen a 30 percent drop in overseas orders, and we are planning to promote our own brand in the domestic market," Shi said.
Seeing little future as an original equipment manufacturer of products designed and contracted for by foreign customers, Shi's snowboard company started developing its own brand products to sell to markets including South Korea.
His efforts are beginning to pay off, and he's already planning to establish a sales network in the domestic market.
"This gave me the confidence to make more self-branded products. Growing in the domestic market is every businessman's dream," said Shi.
To help make his dream come true, Shi said he will have to devote more resources to improving design and quality to establish a trusted brand among domestic consumers.
Special Coverage

Related Readings
China to firmly promote economic reforms, opening-up
Wenzhou needs a change of tack
Chance to rethink economic policies
China to expand domestic demand next year
Call for fairer income distribution