Starbucks, the world's largest coffee house chain, opened its first Farmer Support Center in Asia and sixth globally in Pu'er, Yunnan province, on Wednesday, in a bid to help improve the quality of local coffee beans and make Pu'er a stable sourcing region.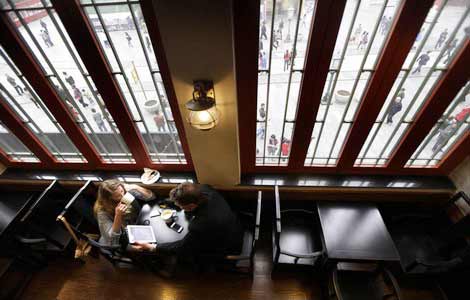 A woman drinks a cup of Starbucks coffee in a store at Qianmen Commercial Street in central Beijing, April 19, 2012. [Photo / Reuters]  
"The opening of the Starbucks China Farmer Support Center is a milestone in Starbucks' continued investments in China and the Starbucks Yunnan Coffee Project," said John Culver, president of Starbucks China and Asia-Pacific.
Culver added that Yunnan would continue to play an important role in the company's long-term supply of premium arabica coffee, as it continues to expand its store base in China, reaching 1,500 outlets in 2015.
The Seattle-based company has been purchasing locally produced coffee beans for a few years, and launched its first blend with beans from Yunnan in 2009.
Culver said the company's purchasing volume from Yunnan has been growing, but did not elaborate.
The company brought four coffee varieties to Pu'er three years ago, and plans to expand from test planting to large-scale planting by 2014.
Culver said he hoped to see these beans sell in China and globally with the "Yunnan Coffee" label.
Several months ago, Starbucks set up a joint venture with Pu'er-based coffee company AiniCoffee. The joint venture has an annual processing capacity of 20,000 metric tons of green coffee beans.
Coffee planting in Yunnan dates back over a century, when French missionaries brought the first plants to this region.
Currently, the planting area of coffee in Pu'er is around 40,000 hectares, yielding 36,500 tons of beans annually, which accounts for half of China's total growing area and output.
Qian Dewei, deputy Party chief of Pu'er, said the city plans to expand its planting area of coffee to more than 66,000 hectares by 2014, which would have an output of 100,000 tons, worth 10 billion yuan ($1.6 billion).
Lu Han, director of Pu'er Coffee Industry Federation, said the city's exports of coffee beans in 2011 and 2012 totaled 24,700 tons, worth $100 million.
"As more people overseas begin to appreciate Yunnan coffee, we also want to promote it inside China. Cooperation with Starbucks would definitely help," he said.
The Yunnan provincial government issued a plan last year to develop the coffee industry into a strategic sector. It set a target of expanding Yunnan's coffee growing area to 607,000 hectares by 2020, realizing an annual output of 200,000 tons, with an estimated value of 34 billion yuan.
A total of 50,000 tons of Yunnan coffee beans were sold overseas in 2011. Although this only accounted for 0.6 to 0.7 percent of the global transaction volume, the figure is a record high in the history of the province's coffee exports
Contact the writers at xieyu@chinadaily.com.cn and guoanfei@chinadaily.com.cn