Experts warn higher figures do not show solid foundation for recovery
Although a slew of improving economic indicators have suggested that the growth of the world's second-largest economy is back on track, no over-optimism is allowed because the foundation of such a recovery is not yet well-grounded, experts have warned.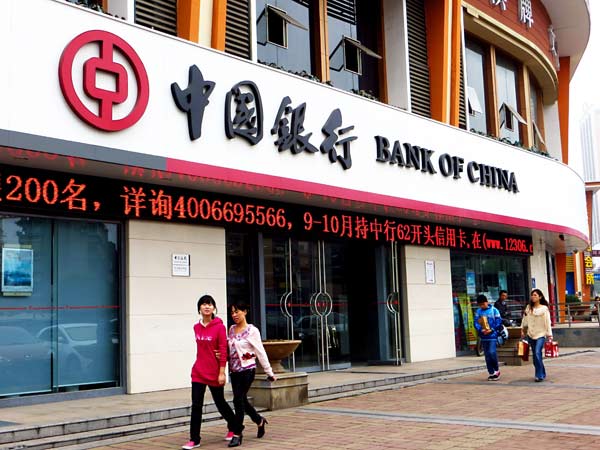 A Bank of China branch in Yichang, Hubei province. The amount of new yuan loans reached 522.9 billion yuan ($83.71 billion) in November, the People's Bank of China announced on Tuesday. This figure was less than the market expectation of 550 billion yuan. Zhou Jianping / for China Daily
Power consumption, a barometer of industrial activity, rallied in November to a 9 percent year-on-year increase, extending the acceleration to two months in a row and signaling a stabilizing industrial sector.
The November figure, which was out on Sunday but not yet officially released, may increase to 420 billion kilowatt-hours, a source with the National Energy Administration was quoted by Economic Information Daily as saying.
The data were echoed by another source with the China Electricity Council, who said that although the detailed figures by sectors were not yet published, power consumption has been expanding mainly because of a surging demand in the industrial sector.
On the production end, power generation in November picked up 7.9 percent year-on-year, marking the highest rate of growth this year, official data showed.
"The rapid growth of both power consumption and generation was mainly due to an overall improving economy," said Hu Zhaoguang, vice-president of the State Grid Energy Research Institute.
Hu said the increase in power consumption was largely a result of the government's trillion-yuan stimulus investment in the midyear, which has just shown its initial effect and will continue to play a role in driving up power consumption, though it is still too early to tell how long it will last.
The increase in power consumption and industrial output showed that China's industrial sector is stabilizing and will enter a period of medium-speed growth in the long term, said Jin Bei, director of the Institute of Industrial Economics at the Chinese Academy of Social Sciences.
On the same day, the People's Bank of China announced that new yuan-denominated lending, which reached 522.9 billion yuan ($83.71 billion) in November, was down 40 billion yuan year-on-year, together with a broad money supply that grew 13.9 percent, slightly lower than estimated.
Although missing market expectations of 550 billion yuan, the new loan figure was up from the 505.2 billion yuan of new yuan loans registered in October, according to the central bank.
The bank also said total social financing, a measure of funds raised by entities in the real economy, stood at 1.14 trillion yuan last month, up 183.7 billion yuan from a year earlier.
"These data suggest that monetary policy remained loose in November," said Zhang Zhiwei, economist with Nomura Securities Co Ltd. "However, we do not believe that the current loose policy stance is sustainable throughout 2013. Financial risks in the trust loan sector are mounting."
Special Coverage

Related Readings
Power consumption up 9% in Nov: Sources
China CPI up 2% in November
China's November PPI drops 2.2%
China's economic activity to pick up further
China's exports slowed in Nov