The performance of China's non-manufacturing sector hit a three-month peak in November, the National Bureau of Statistics has said.
The country's Purchasing Managers' Index, or PMI, for the non-manufacturing sector increased by 0.1 point to 55.6 for the month, the bureau said.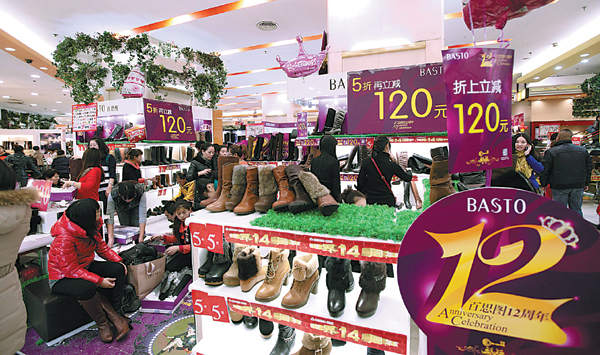 A sales promotion activity at a department store in Beijing. A senior central bank official has said that the whole year's consumer infl ation could remain at the relatively low level of around 2.7 percent in 2012. [Photo by DA WEI / FOR CHINA DAILY]
Together with a rebound in manufacturing production, the increase will give the economy a boost either in the last quarter of 2012 or next year, according to analysts.
The official index registered 55.5 in October and 53.7 in September. A reading above 50 indicates business expansion and below 50 indicates contraction.
Banking and financial services company HSBC Holdings Plc also recently released its final reading for the country's November manufacturing PMI, saying the score stood at a 13-month high of 50.5 for the month, up from 49.5 in October. The rise resulted largely from an increase in business orders.
That marked the first time its figure has exceeded 50 since October 2011.
The HSBC reading was in line with the bureau's PMI figure for November, which was released on Saturday and showed a score of 50.6, up by 0.4 point from October. That marked the index's fourth consecutive monthly increase and the highest point it has reached in seven months.
The PMI's new order sub-index increased by 0.8 point from October to November's 51.2, hitting a seven-month high, and its new export orders sub-index moved back up above 50 for the first time in six months, the bureau said.
The Chinese economy is "on the mend" as both domestic and external demand continues to gain strength, said Yao Wei, China economist at Societe Generale SA.
As a result of the recovery in manufacturing output and an increase in investment supported by policy easing, the country's economic growth may speed up to 8 percent in the fourth quarter this year from a more-than-three-year low of 7.4 percent in the third quarter, according to economists.
The higher service and manufacturing PMI readings support financial services company Barclays PLC's view that "year-on-year industrial production and GDP will increase moderately in the fourth quarter".
Cai Jin, vice-chairman of the China Federation of Logistics and Purchasing, said domestic demand is playing a greater role in driving the economy.
China's economic development is likely to rebound in 2013 and grow at a rate of 7.5 percent — the same rate it is expected to show this year — or even faster, a deputy central bank governor said on Sunday.
It is very possible the consumer price index, a gauge of inflation, will be 4 percent for next year, Yi Gang, deputy governor of the People's Bank of China, said during a forum in Beijing.
Consumer inflation for all of 2012 could be as low as 2.7 percent, which would be a "pretty good" result, he said.
November's CPI will be released by the National Bureau of Statistics on Dec 9.
"The economy remains in the early stages of recovery," said Sun Junwei, an economist with HSBC.
"Despite recent better-than-expected export growth and the upside surprise in November's new export orders, the outlook for external demand remains challenging."
Sun said pressures on employment have not been reduced in a significant way.
The HSBC economist called for policy easing to continue in the rest of this year.
"Monetary policy is likely to lean on quantitative tools through open market operations and reserve requirement ratio cuts in the coming quarters," he said.
"And fiscal spending is likely to be accelerated to support infrastructure investment growth."
Inflationary pressures are now relatively low, giving the central bank space to further ease the country's monetary policies, said Liu Ligang, chief China economist with Australia and New Zealand Banking Group.
"It is possible that the People's Bank of China may cut the reserve requirement ratio once in December to inject liquidity into the market," Liu said.