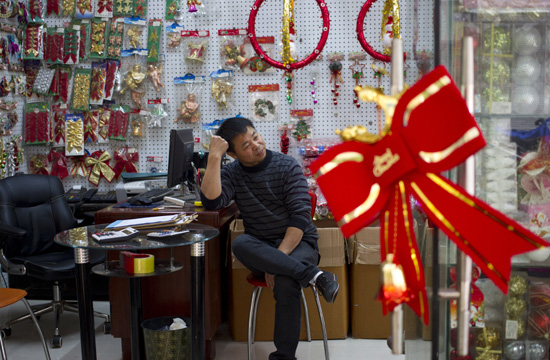 A shopkeeper waits for customers in Yiwu, Zhejiang province. Christmas orders have fallen, and foreign buyers no longer come in droves to talk shop with the many thousands of factory owners in this manufacturing powerhouse in East China. [Photo/China Daily] 
Christmas orders have fallen and foreign buyers no longer come in droves to talk shop with the many thousands of factory owners in the manufacturing powerhouse of Zhejiang province.
But this is good news for the select group of foreign trade brokers permanently camped out in Yiwu, home to a mega-complex where you can find nearly everything that's manufactured in this region.
"Not as many foreigners are coming as before," said He Rongquan, the owner of Yiwu Hanpeng Christmas Arts and Crafts Factory.
"But in bad times like this, that's good for the brokers because they can charge us higher commissions for orders."
By "bad", He means a 40 to 50 percent decrease in exports from his factory in Rui'an, a town neighboring Yiwu, and a 10 to 20 percent increase in labor and material costs.
The profits of his company, which employs around 100 workers, have been "unprecedentedly low" this year.
Overall, China's exports have been suffering because of lingering global economic woes.
Commerce Minister Chen Deming warned on Wednesday that the country's trade sector may miss its 10 percent growth target this year.
The Paris-based Organization for Economic Cooperation and Development, which cut its forecast for China's 2012 GDP growth from 9.3 percent to 8.5 percent on Tuesday, also warned of a continuing decline in exports from the world's second-largest economy.
According to He, brokers' average commission rate was between 3 and 5 percent this year, while in good years, factory owners would only need to give them one-off financial gifts.
"I have to cut my prices again and again just to win some orders," said He.
"My profit margin is already paper-thin," he said. And it's made even thinner by "blood sucking" brokers taking advantage of the situation.
Chen Jinlin, secretary-general of Yiwu Christmas Products Industry Association, estimated that there had been a 15 to 20 percent decrease in the city's exports of Christmas-related products in 2012.
And the slump is being felt most keenly by the city's small and medium-sized factories, the chief clients of Yiwu's thousands of trading agencies.
"They (the brokers) have the connections, and language advantage," said He, who started to produce Christmas-related products in Rui'an 10 years ago.
The trading agency that helped He Yongquan win more orders is run by a fellow resident of Rui'an who spent several years overseas.
Several trading companies in Yiwu that were approached by China Daily denied the claims about individual commissions, and some insisted that it was strictly forbidden for their employees to individually demand commission.
But a broker, speaking on condition of anonymity, argued that her employer, as well as many others in the industry, had intentionally lowered their employees' base salary in order to force them to "extort financial rewards from their customers".
Lou Luhui, a Christmas products manufacturer in Yiwu, however, is tired of being "exploited" and has decided to push the boundary, in his words, "a little bit further" to Germany, "the center of the European market".
In May, the 35-year-old opened a showroom in a market in Frankfurt, decked out with thousands of red and green Christmas bells and decorations, a decision Lou believes could win him eight times the profit to be obtained "sitting at home waiting".
"The major profit will be earned from skipping the middlemen, though the cost of shipping all by myself is also high. But it's well worth it," said Lou.
xujunqian@chinadaily.com.cn