The popular game Angry Birds has teamed up with one of the world's best-known film franchises, Star Wars, to tell fans "May the force be with you" in an entirely new realm.
Rovio Entertainment Ltd, the Finnish game maker, celebrated on Thursday evening the launch of a new game with their fans at the Oriental Pearl Tower in Shanghai.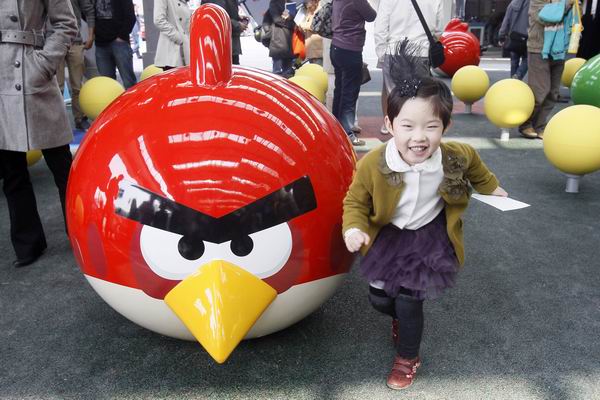 A child poses for a picture at the Angry Birds theme park in Tongji University in Shanghai, on Oct 31, 2012. [Yong Kai/Asianewsphoto] 
"We have to give our fans at every level something more delightful each time and what we aim to accomplish is a motto: To surprise and delight our fans," said Paul Chen, Rovio Gaming's China general manager. "The latest game adds to the 'easy to play, hard to master' strategy."
With more than 80 levels in iconic locations such as Tatooine and the Pig Star, the game features hours of engaging gameplay, all new gameplay mechanics, the ability to level up birds, free updates, plus lots of secrets and hidden goodies.
All favorite Star Wars characters including Luke Skywalker, R2D2 and Princess Leia are now birds in the latest release. Players can earn special powers to overcome the Darth Vader pigs, as gamers follow the Star Wars film series re-created in the form of an Angry Birds game.
Before the launch, previous Angry Birds games had been downloaded more than one billion times, with more than 250 million active users per month.
Rovio hopes to achieve one billion active users with the new franchise thanks to the partnership with one of the world's strongest brands. Chen said it's part of an ongoing strategy to strengthen Angry Birds as its own franchise.
In July it opened two brick-and-mortar stores in Shanghai and Beijing selling soft toys, mobile phone accessories and physical games.
In October, it also opened an Angry Bird-themed amusement park in Shanghai's Tongji University.
Currently more than 30 percent of profits linked to the game now come from consumer products.
A new Star Wars themed range was also launched last night to hit stores soon.
Rovio wouldn't say how much it cost to get Lucasfilm, the producers of Star Wars, on board, but revealed there are mutual benefits for both brands by reintroducing science fiction fans to a new outlet to celebrate some of their favorite movies.
Chen wouldn't say what the next step is for Angry Birds.?
"A George Lucas film? That remains to be seen," Chen said. "I can't really comment on that, but what I can say is that we are releasing a 52-part cartoon series next year, which could pave the way to a movie."
Star Wars Angry Birds is now available to download on to iPhone, Android Windows phones and tablet devices.
hewei@chinadaily.com.cn