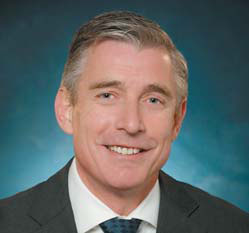 Greg Foran , Wal-Mart's new China CEO [Photo/China Daily] 
Q: What inspired you to join the retail business in the first place?
A: It was actually my mother and father who got me into retail. They knew that I was unsure of what I should do in terms of a career and instead simply urged me to "be the best that I could be" at whatever I did. With that simple thought in mind I started full time on a career that has turned out to be a wonderful ride.
What do you value most in a store?
The enthusiasm of our associates is what motivates me each and every morning and late into each day. To provide an opportunity for everyone to be "the best they can be" is very important to me. When I go into a store and see that enthusiasm I know we are in good hands.
Name something you have little tolerance toward.
I have less tolerance when we fail to demonstrate enthusiasm for giving customers what they want.
Describe what you find to be most interesting about Chinese consumers.
The customers I have met are wonderfully clear about what matters most to them. They absolutely demand safe, quality food, plus the very best price and, of course, terrific service. They are very fundamental things but critical to customers. Executing that every day in every store all the time is the most important thing.
Can you give any advice to Chinese consumers on how to save money while shopping?
My advice for saving money is: Always have a shopping list. That keeps you focused on just buying what you really need. Fresh food is always about quality and price. Sometimes the lowest price is not the best quality. Finally, I always like to concentrate on the cost of the basket of goods you buy over a long period of time. Convenience is important to all of us because we are often short of time, so having trust in a retailer's price over a long period is important. Changing stores to shop around is difficult, so being able to buy it all from one place and being confident that the total you spend is right is important.
What advice can you give to retailers to sell more?
To sell more, trust everyone in your business to be a great merchant and encourage them. Also, find items that appeal and build big displays at a terrific price.
What is your favorite Chinese city?
I have many but as Shenzhen is my home, I certainly like this city a lot.
What is your favorite Chinese food?
I love all kinds of Chinese food, from the north of China to the south, from the east to the west. It has been fantastic. Peking Duck is one of my favorite meals for special occasions.
How do you spend your weekends?
I actually work a lot during the weekends but when I relax I like to spend time with my wife Ondrea, read a good book, eat great Chinese food and keep fit.
What is the quality you most admire in people?
The qualities I admire most are trust, compassion for others and conviction to stick to what you believe in.