On Sany America's sprawling campus on the outskirts of Atlanta, with the modern factory serving as the backdrop, a line of earth excavators bearing different manufacturers' nameplates operate in a kind of choreographed competition - Caterpillar, Doosan and Volvo, against Sany's own machine.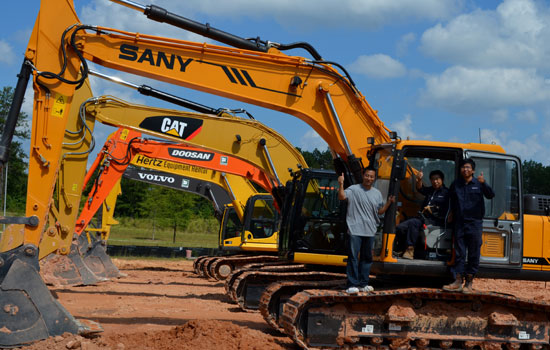 Workers from Sany America demonstrate the company's earth excavator alongside models made by rival manufacturers to potential US clients on the Sany corporate campus in Peachtree City, Georgia. [Photo/ China Daily]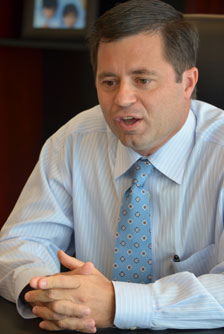 Tim Frank, chairman of Sany America, says the US arm of China's Sany Heavy Industry Co has "creative" plans in the works. [Photo/ China Daily]
In a small white tent near the edge of the field, a group of potential American dealers and customers were being pitched on the merits of the Chinese-made heavy equipment.
In the eyes of Tim Frank, newly appointed chairman of Sany America, the excavator demonstration was an effective way to introduce the company and underscore for skeptical potential clients its commitment to the US market.
Tang Jianguo, who has worked at Sany Heavy Industry Co for 17 years and is now president of its US subsidiary, said the demonstration exemplified a grand ambition: to surpass industry leader Caterpillar Inc.
Sany's $663 million acquisition in March of Putzmeister Holding GmbH, a German manufacturer of concrete pumps, was a strong sign of its aspirations of aggressive global growth - a strategy pushed by the Shanghai-listed company's chairman, Liang Wengen. According to Forbes magazine's 2011 billionaires list, Liang was the richest person in China.
Set up in 2006, Sany America is a wholly owned subsidiary of Sany Heavy Industry, China's biggest manufacturer of heavy machinery, mainly used in engineering and construction, and the sixth in the world.
Under Tang's leadership, the US arm has worked to establish itself in the domestic market by focusing on the key areas of research and development, production, sales and service.
In the past five years, it completed the first phase of its infrastructure investment program, formed a stateside workforce and got business operations running at full steam. Its sales network covers 65 percent of North America through 12 primary dealers.
"In the next five years, we will become number one in market share of crawler cranes and excavators in North America," Tang told China Daily in his new office.
The subsidiary, which now has about 100 employees on its Peachtree City campus, has said it hopes to become a magnet for skilled workers across Georgia, with the goal of employing up to 900 people within five years.
The $60 million campus houses a stand-alone R&D team for Sany America as well as 360,000 square feet (33,445 square meters) of manufacturing space.
Under its agreement with Georgia's Fayette County, Sany will invest more than $100 million to develop a 92 hectare, state-of-the-art plant to design and build Sany products for the US and Canada.
Toward its market-leadership goal, the Chinese parent company created a position for Frank, a veteran executive, to oversee the subsidiary's excavators business, while Tang is in charge of crawler cranes, rough-terrain cranes and port equipment.
Frank, 44, is a native of Peoria, Illinois, which incidentally is home to Caterpillar, the company Sany hopes to supplant. He received a bachelor's degree in business from the University of Illinois at Urbana-Champaign and a master's in history from Illinois State University.