Lean times prompt entrepreneurs to develop new strategies to keep afloat
Though winter is still a good two months away, icy winds from Europe seem to be already buffeting the low-cost manufacturing hub of Yiwu, in East China's Zhejiang province. The all-round chill, however, has little to do with the actual weather in the city lying southwest of the Yangtze River Delta, but more to do with the bleak export landscape and tepid demand from overseas markets.
"You can find virtually anything you could see or imagine on the earth in Yiwu" is often the catchphrase used by experts to explain the city. The bleak situation has, however, put the city on a fast-forward mode to find ways and means to combat the crisis.
With a market area of 4.7 million square meters and more than 1.7 million kinds of products, it is a veritable hub for traders from across the world. Last year total exports from Yiwu were in excess of $3.6 billion, an increase of 26 percent over 2010.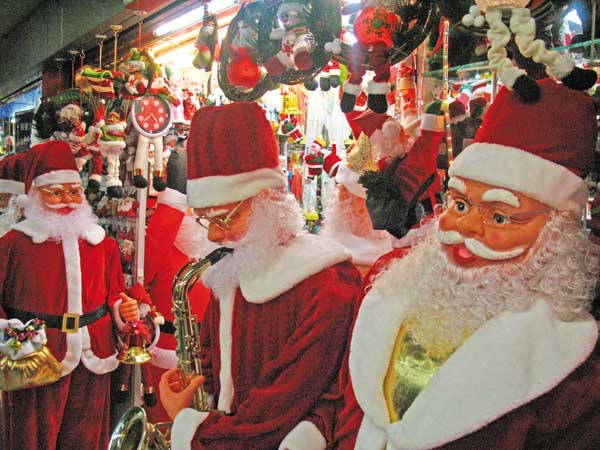 Yiwu in Zhejiang province has been a major supplier of Christmas products for Europe. Affected by the ongoing economic downturn in Europe, local companies are making moves to survive. Lin Jing / China Daily 
Small commodity hub
Yiwu is also a major hub for Christmas products and has more than 700 companies with annual returns of more than 2 billion yuan ($316 million) engaged in the trade. The trade covers more than 15,000 categories and includes Christmas trees, toys and decorations, according to statistics provided by the Yiwu Christmas Products Industry Association, or YCPIA.
Christmas products exported from the city account for more than 50 percent of the total sales in the world market, compared with 70 percent in the United States and 40 percent in Europe.
But the prospects this year are not that encouraging.
"Total sales for this year are likely to fall by 15 percent to 20 percent, compared with 2011," said Chen Jinlin, secretary-general of the YCPIA.
"The major drag on our trade this year has been the sovereign debt crisis in Europe, as it has forced customers to rein in spending. Surplus inventories from last year have also affected new orders," he said.
There has also been a steady rise in new companies. The number of companies in Yiwu grew from about 400 in 2010 to 500 in 2011 and to more than 700 this year. Chen said that the fast expansion of local companies has splintered the limited market share.
In Futian No 2 market district of Yiwu city, there are more than 400 companies specializing in Christmas products. It is also known as "Christmas village" among local people.
Normally, business orders from Europe and the US ramp up between March and July. Buyers from the Middle East show up in this village between May and September. By the end of August, most of the companies are already busy with packaging and delivery.