More cruises and college exchanges aid understanding on both sides
Hong Kong's tourism and education sectors are poised to get a shot in the arm from the central government's latest cooperation programs, while experts in both fields say obstacles remain.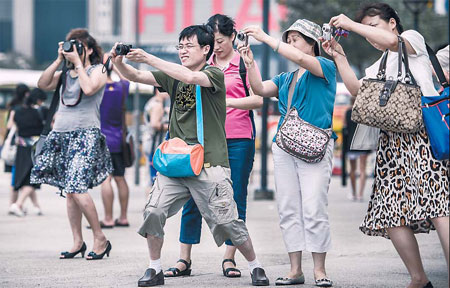 Tourists from the Chinese mainland take pictures during a visit to Hong Kong on Aug 28. Philippe Lopez / AFP
The measures, aimed at further strengthening the already close economic ties between the mainland and the Hong Kong Special Administrative Region, were announced just before President Hu Jintao arrived in Hong Kong in late June on his second visit to the city as head of state.
Under the latest incentives, mainland cruise passengers will be able to board a Hong Kong-based cruise liner and sail directly to Japan or South Korea with an intermediate port call in Taiwan. They can later head straight home after reaching their destination, provided they stay aboard the same vessel.
Michael Wu Siu-ying, chairman of the Travel Industry Council of Hong Kong, believes that more cruise ships will make Hong Kong their home port in the future, and this will benefit the tourism sector.
The new policy will also provide a big boost to the soon-to-be-completed cruise terminal at the former Kai Tak Airport site in Kowloon Bay. The terminal's first berth is expected to be ready for the first scheduled cruise visit there when Mariner of the Seas comes to Hong Kong in mid-2013. Fourteen more cruise-ship stopovers have also been booked from October 2013 to April 2014.
However, neither of the operators of these ships plans to make Hong Kong a home port nor operates the Hong Kong-Taiwan-Japan-Korea route.
Jeff Bent, cruise projects director at Worldwide Flight Services — a global airport services organization that has been operating in Hong Kong since 1998 — said that cruise lines frequently book berths at destination cities about two years in advance, so it's still too early for itinerary planners to respond to the new facilities.
But he is optimistic that the latest incentives will work, and predicted that a variety of attractive new one-way routes will open up for outbound passengers from Hong Kong. He cited the ports of Hualien in Taiwan, Naha on Okinawa and Jeju in South Korea as examples.
"We believe the potential is very good. Vacations in Asia are generally no longer than a week at a time, so it's valuable to have more cities to visit within a relatively short distance," he said.
However, Bent also said that while mainland authorities have "very helpfully" lifted the restrictions on their side, it is up to the destination countries to resolve the other visa issues. The industry also hopes the mainland will ease the cabotage limits on foreign ships sailing between mainland ports.
Malaysia-based Star Cruises has been Hong Kong's only resident cruise operator, and its sole vessel, Star Pisces, has operated only one-night "sea-tour" trips throughout 2012. These have proved to be popular with gamblers and weekenders.
While the company welcomes the initiative to strengthen Hong Kong's cruise business, a spokesperson said Star Cruises is "looking forward to more details for further evaluation".
As for education, the latest incentives are expected to lead to greater opportunities for promoting student exchanges between Hong Kong and the mainland. Seventeen higher-education institutions in Hong Kong signed a letter of intent with an equal number of mainland educational institutions in late June to conduct bilateral visits and expand cooperation in research.
The latest initiatives are an extension of a similar program unveiled by Vice-Premier Li Keqiang when he visited Hong Kong in 2011. In addition to the quota of 1,000 students and teaching staff, exclusive to the University of Hong Kong, 2,000 students and staff from other institutions will be eligible for funding to undertake academic exchanges and internships from next year.
The HKU program was launched in Shanghai in April. While HKU's faculties have been pitching their proposals in recent months, mainland institutions have been told to submit their applications and proposals to the Ministry of Education by June.
Under the program, HKU students and teaching staff are required to spend more than two weeks in one of the 16 selected mainland institutions for study, research or internship between July and December. Apart from total reimbursement of fees, along with free accommodation, each student is also eligible for a monthly stipend of 2,000 yuan ($320).
According to the ministry, the program aims to deepen communication among students and widen their understanding of the nation's history and culture.
Although the ministry has set July for starting the program, a HKU spokesperson told China Daily in late August the coordinating departments are still drawing up the details for implementing it. Applications were still not open to students and faculties as of early September.
All forms of collaboration and exchange had been under way for some years, even before the latest initiatives were announced. About 1,000 students from the Chinese University of Hong Kong head north every year under exchange programs.
A CUHK spokesperson said there have also been student tours, visiting scholars and joint research projects between CUHK and its mainland partners. As one of the signing partners of the new letter of intent, the university said details of its plan will be announced later.
While students can look forward to some outside-the-box experience, researchers also are encouraged to take part in national science and technology projects and enroll in the national "1,000 Elite Program".
William Wong Kam-fai, associate dean at CUHK's faculty of engineering, said the most welcomed initiative was the expansion of the current list of 12 key State laboratories in the city to allow researchers to confront greater challenges with their expertise.
"Hong Kong is a place of only 1,000 sq km with a limited range of issues. Many of our scientists have gained great experience in tackling huge problems in the United States and Australia, but there is no environment for them to exercise their potential to the fullest," Wong said.
The limited research and development sector in Hong Kong, he said, has hindered opportunities for scientists to put their knowledge to practical use.
Several Hong Kong universities have already set up laboratories and research institutes on the mainland, and though local scientists, theoretically, may take part in State-funded programs via the spinoffs, Wong noted there are still obstacles that impede a greater presence of Hong Kong scientists on the mainland.
To secure project funding from the Research Grants Council in Hong Kong, researchers are required to spend no less than 180 days in the city. Wong said that because funding will be factored into the regular reviews of institutions' rankings, management is reluctant to let scholars cross the border and devote such significant amounts of time to mainland projects.
"It would be easier for the 1,000 Elite Program to bring in experts from Australia than from Hong Kong," he said.
As the capital flow restrictions apply to research funding, Wong said, it remains difficult for Hong Kong scientists to help tackle the nation's problems without leaving their hometown. "But it's still a great incentive to begin with the creation of State key laboratories. Once we get the status, we can take the time to overcome the hurdles one by one," he added.
The package of incentives also include policy support for more Hong Kong institutions to set up campuses on the mainland. Hong Kong Baptist University was the first to launch a mainland campus, which it did in Zhuhai in 2005. The Shenzhen campus of CUHK will recruit students from 2012, while HKU has opened its first hospital outside Hong Kong, in Shenzhen.
Contact the writer at kahon@chinadailyhk.com