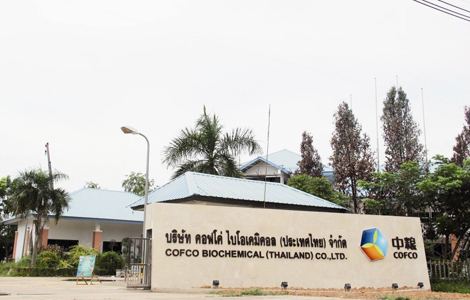 COFCO Biochemical (Thailand) Co Ltd's factory in Rayong Industrial Zone in Thailand. The Thai subsidiary of China National Cereals, Oils and Foodstuffs Corp, China's largest food processing, manufacturing, and trading company, spent 20 million yuan ($3.16 million) to buy a citrate factory and another 100 million yuan on upgrades. Provided to China Daily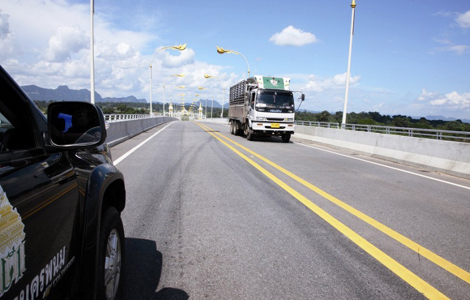 The Second Thai-Lao Friendship Bridge, which connects Mukdahan Province in Thailand with Savannakhet in Laos. A fourth bridge connecting Chiang Rai Province in Thailand with Ban Houayxay in Laos has been approved by authorities and will be partly financed by China. Guo Hongsong / Guangming Daily
Investors view the Southeast Asian nation as a springboard into the rest of the region, as Wei Tian reports from Bangkok
In the second act of Siam Niramit, a historical cultural performance about ancient Thailand, popular among foreign tourists in Bangkok, a 16th-century Chinese trading boat docks at a port on stage.
Fully loaded with delicate silks, porcelain and other treasures from China, the arriving outsider quickly wins over the hearts and minds of local residents.
Today, the humble trading vessel has been replaced by thousands of planes and cargo ships transporting goods between the two countries worth billions, ensuring ties between the two nations are strong and deep-rooted, both socially and economically.
According to the latest statistics from the Thailand Board of Investment (BOI), for instance, China was the country's second-largest source of foreign direct investment in 2011.
Chinese companies have applied to take part in more than 180 investment projects in the last five years, worth a total investment of $4.15 billion.
Data from Thailand's travel bureau show China has become the largest source of visitors to its famous southern seaside resort of Phuket.
The importance given to links with China is clearly illustrated at the newly built multimillion dollar Bangkok Suvarnabhumi International Airport, where noticeboards and signs are in Thai, English and Chinese.
Liang Wanshan is among the new generation of Chinese coming to Thailand.
As general manager of COFCO (China National Cereals, Oils and Foodstuffs Corp) Biochemical (Thailand) Co Ltd, Liang was sent to establish a local team after a subsidary company of China's largest food processor, manufacturer and trader spend 20 million yuan($3.16 million) to buy a local citrate factory last year.
Eight months after Liang first arrived in Thailand, a modern factory is taking shape in the east of the country's Rayong Province.
But its redevelopment wasn't easy.
"At first, I was shocked by how simple and crude the factory was," Liang said.
Apart from investing in the site, the company spent another 100 million yuan on upgrading and overhauling the equipment on site, 20 percent of which was in the necessary environmental protection systems.
"Maintaining a good relationship with local residents is vital for foreign investors in Thailand, and environmental protection was always a sensitive issue," he said, adding that the previous owner had issues with local residents over the factory's environmental record.
COFCO decided right from the start it needed to play a key role in the local community.
Having already hired 80 employees locally, Liang said he expects to have a full capacity of 300 people when fully operational next year.
"We are keen to employ as many local people as possible in senior management positions," he said.
According to a recent report from global management consulting company McKinney & Co, one of the biggest issues facing Chinese companies looking for international expansion remains being able to find enough managers with overseas experience.
It said creating the perfect balance between local people and incoming Chinese has to be carefully planned, and success can often depend on whether that balance is right.
Liang said that he insists his Chinese managers employed to work in Thailand have been fully trained, not only in the local language and laws, but also in local culture and customs.
"We also provide Chinese lessons for our local staff," he added.
Within his workforce there are also Chinese managers hired locally, such as Jing Jing, a Chinese graduate who has been working and living in Thailand for more than five years.
"It's actually been quite easy to knit myself into the local community," said Jing, a graduate from Guangxi Zhuang autonomous region who speaks fluent Thai, "because we don't actually look that different, which helps too".
After generations of immigration, the Chinese are the second-largest ethnic group in Thailand, accounting for 14 percent of the country's total population.
"I also like the fact that most things are cheaper here, the lifestyle is very easy going, plus flight tickets from Nanning (the capital city of Guangxi Zhuang autonomous region) to here are actually cheaper than to many Chinese cities, making Bangkok closer to home than Beijing or Shanghai," added the 30-year-old office worker.
"I know many like me who have married local people, and others who have bought property or become successful entrepreneurs.
"Many are now being hired by Chinese companies who have established an office or factory in Thailand," she said, adding that she knows of around 100 of her college friends working for Chinese companies in Bangkok, including for some big names such as Huawei and Haier.
Since 2007, nearly 30 Chinese companies have established a presence in the Rayong Industrial Zone, involved in industries ranging from electronics and auto parts, to rubber and metal.
COFCO Biochemical said that one of the reasons for its acquisition of a local factory was to secure a better supply of raw materials, particularly cassava, a crop grown for its edible starchy root which is a major source of carbohydrates, of which Thailand is a main producing area.
"The acquisition will help diversify our raw material supply, and contribute to the expansion of our citrate business, further improving regional distribution and enhancing economic benefits," the company said.
Pros and cons
Apipong Khunakornbodintr, director of the investment promotion section at the Royal Thai Embassy in Beijing, said a major benefit for companies like COFCO building facilities in Thailand is to avoid tariff barriers.
Holley Group Electric (Thailand) is an example - a power meter maker subsidiary of Holley Group China which has made great use of its factory in Thailand.
It used to face a 30 percent special tariff when trying to export to Peru, for instance, from the Chinese mainland.
The establishment of a factory in Thailand helped it get around that tax barrier, as no such barriers exist between Thailand and Peru, and some other countries.
"That's the initial reason for many Chinese investors coming to Thailand, but once they are here, they discover there are many more advantages," Apipong said.
According to information from BOI, foreign investors are also exempt from corporate income tax for a maximum of eight years, followed by a 50 percent reduction for another five years.
As a result of those kinds of incentives, the number of approved investment projects from the Chinese mainland increased from 16 in 2006 to 36 in 2011, with the total investment volume up from 2.5 billion baht ($79 million) to 16.9 billion baht.
But not all business environments are perfect.
"Compared with domestic workers, local employees are more mannered, but at the same time, less flexible," said Liang.
Although salaries in Thailand are lower than in China, the efficiency may not be as high either, because local workers often need to managed more closely, can lack initiative, and working overtime is just "unimaginable".
"But on the other hand, the quality is good, and a high standard can be guaranteed," he said.
Meanwhile, another major issue being reported by Chinese companies is an overcapacity of firms in some sectors, leading to vicious price competition among rival investors.
COFCO has to share the market with two other Chinese-funded citrate producers in Thailand, including privately funded Sunshine Biotech International.
According to Apipong, there is no surplus in production in this case, yet, but elsewhere he said some Chinese investors are exploiting the local market, by simply using their operations in the country as export bases.
"Price competition is unlikely, as we will normally ask investors to detail their pricing structures within their investment contracts," he said.
However, with more Chinese companies entering the local market, favorable conditions such as tax reductions compared to China for exporters could be cancelled for certain industries over the next five years, to avoid any possible overcapacity.
"Chinese companies should work closely with organizations such as the Chinese-Thai Enterprises Association to build relations and discuss their competitiveness and common practices to avoid issues such as over-capacity," he adds.
According to the BOI, the majority of Chinese companies investing in Thailand are still centered on the manufacturing, whereas higher-value added industries such as alternative energy are target sectors that Thailand is hoping will attract more overseas investment.
Increasing cooperation
During a meeting with his Thai counterpart Yingluck Shinawatra in Beijing in April, Premier Wen Jiabao proposed expanding bilateral trade between the two countries to $100 billion annually before 2015, enhancing cooperation particularly in telecommunications, technology, energy and agriculture.
Yingluck said her country would play a positive role in boosting ASEAN-China cooperation.
According to Wang Jian, an officer with the ASEAN-China Center, established last year to promote trade and investment exchanges within the area, the trade volume between China and ASEAN countries is expected to reach $500 billion in 2015 form the current level of $360 billion.
During a visit to China in August, Thai Industry Minister Chaiwuti Bannawat was quoted by Guangxi Daily as saying that investment from China, worth another 20 billion baht this year, is likely.
The Thai government is actively pushing construction of traffic networks, including a high-speed railway linking southwestern China's Yunnan province to the northeast of Thailand.
"The northeast of Thailand will be a transport hub for the ASEAN region after the network is established," said Wiboon Khusakul, Thailand's ambassador to China.
"Chinese businessmen are more familiar with the coastal region in east Thailand, but know very little about the north where there are abundant opportunities."
Although the project is still at the discussion stage, Wiboon said it would only be "cost-efficient" if the railway finally reaches Singapore, suggesting speeds could reach 250-300 km per hour.