Competition is fierce as rivals vie for business from holidaymakers
China's travel agencies are already getting excited about Super Golden Week with the rare combination of the Mid-Autumn Festival and the National Day holidays. Although the holiday is three weeks away, most of the country's travel agencies are busy preparing various products to lure customers.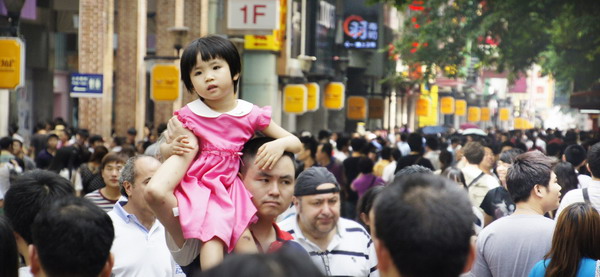 Shoppers walking in
Beijing
Avenue in Guangzhou, the capital city of
Guangdong
province. Tourism is more than just traveling and sightseeing: It also involves other business sectors including catering, lodging, shopping, entertainment and transportation. It is estimated that every yuan added to tourism revenues generates 10.2 yuan in added value for the service industry. And every one direct job opportunity will secure more than five indirect job positions. [Photo/China Daily] 
According to Ctrip.com, the country's leading travel service by business volume, its reservations for Chinese and overseas package tours have seen a much higher than usual rise with prices up 20 to 30 percent for domestic tours compared with those for off-season breaks. Booking tours to some international destinations has already become difficult.
Super Golden Week will start on Sept 30 and end on Oct 7. It is the longest national holiday after China canceled the seven-day holiday for May Day and added the Mid-Autumn Day as one of the national holidays in 2008.
Despite the global economic recession and slowing growth of China's national economy, tourism is still the fastest-growing industry in China, said Liang Da, an expert with the National Bureau of Statistics, having been something of a novelty 30 years ago. It's not just about traveling and sightseeing but also involves other business sectors including catering, lodging, shopping, entertainment and transportation.
Tourism makes up more than 4 percent of China's gross domestic product.
In fact, tourism contributes much more than the 4 percent. It has added value in that people don't just appear at a scenic spot for an hour or two and then disappear. They have to get on a train, a bus or an airplane. They need to eat, drink and sleep. And they buy souvenirs, postcards and take loads of pictures. All these things have an impact on service sectors.
It is estimated that every 1 yuan added to tourism revenues generates 10.2 yuan in added value for the service industry. And every one direct job opportunity will secure more than five indirect job positions.
The number of domestic tourists increased by 13.5 percent year-on-year in 2011. They spent nearly 2 trillion yuan ($315 billion), accounting for 10 percent of total Chinese residents' outgoings in the year.
"Tourism is a relatively low cost businesses but yields fat profits and has a very high added-value element," Liang said. "With more than 110 tourism-related sectors and 80 million employees, the country's tourism will very much affect the country's economic growth."
According to figures provided by Liang, tourism contributes more than 90 percent of lodging business incomes and more than 80 percent of air and rail transport business revenues. Between 2006 and 2010, tourism created 3 million new jobs and about 17 million indirect job opportunities.
Analysts say that tourism will overtake the oil and the automobile businesses to become the world's largest industry. In 2011, tourism made up an average of 9.1 percent of global GDP. The car industry accounted for only 8.5 percent.
With the Asia-Pacific region becoming a popular tourism destination, revenues from Asia's tourism account for more than 20 percent of the world's total.
As a country with a long history and diversified culture, China boasts abundant tourism resources. The State Council defined tourism as a national strategic pillar industry in 2009 and set May 19 as China Tourism Day. China Tourism Academy, an institute led by the China National Tourism Administration that specializes in research into key tourism-related issues, predicts that by 2020 domestic tourism will attract 5 billion people. The majority of overseas tourists stay in China for at least one night, according the academy.
The growing tourism industry not only provides room for the development of other related industries and helps millions of people to find jobs, but also deepens international economic cooperation and boosts the world economy, added Liang.
For example, Ctrip.com recently announced it would cooperate with the Amsterdam-based online hotel reservation agency Booking.com to expand its overseas market. The cooperation will further facilitate overseas traveling and also bring large numbers of Chinese customers to Booking.com.
Now that Chinese people's incomes are increasing and more and more are willing to use their spare money to get away from routine daily life to spend time somewhere new, tourism in China is also getting as hot as the coming Golden Week.
Travel agencies fiercely compete for trade, providing discount packages and using price strategies such as offering a low price at first to attract tourists and then raising the price rapidly as its popularity grows.
The hot side of tourism still needs a cool mind in terms of rules and regulation, quality of service, price management and the preservation of tourist resorts, said Liang.
On Aug 27, the draft of China Tourism Law, the country's first law of this kind, was submitted to the nation's top legislative body - the National People's Congress - for approval.
The draft outlines the plan for the development of China's tourism and makes specific regulations for the protection of tourist resorts. It stipulates that it is the responsibility of the relevant local governments to back the development of tourism.
The draft also stresses that tickets for scenic spots should follow government guidance prices and any changes should be publicized six months in advance.
Prompted by economic growth and strong backing from central government, "China's tourism is entering a golden era of development," Liang said. As tourists and travel agencies are busy preparing for the Golden Week, China's tourism is likely to see a hot season again.
Ye Yiwen contributed to this story.