Economist warns unusually low July take-up poses threat to annual credit supply target
China's "big four" State-owned banks accelerated their pace of new loan issuance in August, which experts said reflected increased government concern over further economic slowdown.
The "big four" — Industrial and Commercial Bank of China Ltd, China Construction Bank Corp, Bank of China Ltd and Agricultural Bank of China Ltd — extended 70 billion yuan ($11 billion) worth of yuan-denominated loans in the first half of August, a significant increase from the 50 billion yuan offered by the same stage last month, Shanghai Securities News reported on Monday.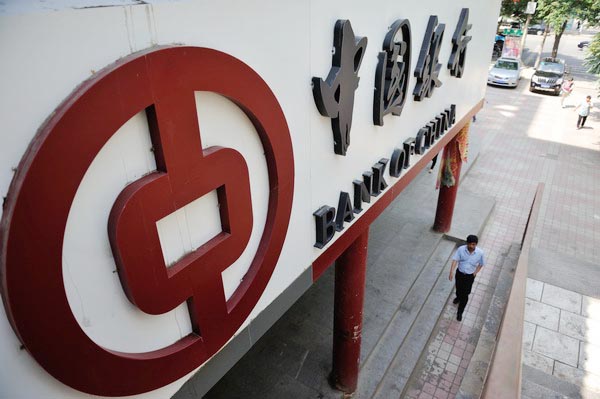 A Bank of China Ltd branch in Lanzhou, Gansu province. The "big four" State-owned banks in the country extended 70 billion yuan ($11 billion) worth of yuan loans in the first half of August, Shanghai Securities News reported on Monday. [Photo/China Daily] 
The figures follow an unexpected fall in new loan releases in July, when China's various financial institutions extended 540.1 billion yuan in local currency new loans — against an estimate of 700 billion yuan by the industry — the lowest level since last October.
China Construction Bank said last week it would attach more importance to "consolidating growth" and planned to focus on its credit business in the second half of the year — a departure from the first half, when it had said it would focus on controlling finance to property development, and other risks.
The announcement made CCB the first of the "big four" to publicly back the government's "consolidating growth" agenda.
Deeply concerned about declining credit supply, the four banks have accelerated their loan issuance in line with government wishes, said Richard Huang, a partner of Boston Consulting Group and an industry expert.
Wang Jun, an economist with China Center for International Economic Exchanges, a government think tank, added: "July's figure was unusually low. If that continues, China won't even achieve its annual credit supply target, which is why credit release has accelerated in August."
Another sign of State support is that despite the big banks' larger credit feed, the percentage of medium- and long-term loans has not risen significantly, according to a report in Shanghai Securities News.
"That demonstrates the banks' lack of confidence in their borrowers. If they were more confident, they would issue more medium- and long-term loans," said Huang.
Shanghai Securities News, citing unnamed sources, said new loans in August should be 600 billion yuan, while Huang forecast 600 to 700 billion yuan.
Policymakers' dilemma
However, analysts said that a bigger concern for China's bankers and policymakers remains that the easing in liquidity still might not be enough to improve weak demand for loans from Chinese companies.
"The lackluster real economy has made it difficult for companies to find decent projects.
"So, there is no great need for them to seek lending," Wang said.
Dropping profits and rising overcapacity have also hindered corporate expansion, further draining credit demand, Wang added.
China's economic growth in the second quarter slowed to 7.6 percent, the lowest since early 2009.
"On the supply side, though the central bank cut interest rates twice within a month, the reserve requirement ratio for China's banks is still relatively high. The high RRR, combined with other requirements such as the loan deposit ratio, has constrained banks' money supply."
With this in mind, Wang suggested a cut in the reserve requirement ratio "as soon as possible".
Jing Ulrich, JP Morgan Chase's managing director and chairwoman of global markets, China, ruled out any cut in the RRR before September, but forecast two possible cuts soon after.
Price rises in commodities such as oil, soybeans and corn are adding to the upward pressure on the consumer price index — a further reason for the central bank to postpone further credit easing, she added.
Several economic indicators, including falling export growth and levels of FDI, have encouraged some economists to be pessimistic about the economic outlook.
Ulrich said GDP growth in the third quarter may not rebound, as many had predicted earlier, and that the economy might bottom out as late as the fourth quarter.
Contact writers at zhengyangpeng@chinadaily.com.cn and chenjia1@chinadaily.com.cn
China's new yuan loans
Banks extend 70b in yuan-denominated loans
July new loans expected to show steady growth
New loans to hit 700b yuan in July
Bank loans to small firms rise in H1