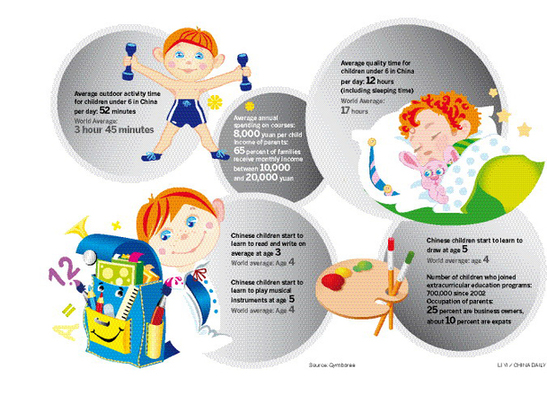 Big increase recorded in numbers of children under 6 taking lessons
How much money is it reasonable to spend on the education of a child aged below 6? For some parents, not a single jiao is needed because they believe parents can educate their offspring perfectly. Others may spend more than 50 percent of their monthly income on programs and learning materials for their youngsters.
Yang Yimei, 35, a full-time housewife, said she spends some 4,000 yuan ($635) on buying books, DVDs and intelligence development toys for her 5-year-old daughter. Another 2,000 yuan is spent on early childhood education programs, such as play and music courses and piano lessons. The monthly income of the family is 13,000 yuan.
"We have seen increasing members in the past decade and an expanding market in early childhood education, especially with the high-end programs," said Stella Chen, general manager of Gymboree China Play and Music, a high-end early childhood education service provider.
Chen said more than 700,000 children have joined programs of more than 200 Gymboree Play and Music centers in more than 100 cities around China since the brand entered the country in 2002.
The average spending on each child who was signed up for courses at Gymboree China Play and Music centers is about 8,000 yuan per year, according to Chen.
"Some keen parents may bring their children to our classes three times a week. The annual spending can reach 20,000 yuan to 30,000 yuan," said Chen.
A survey shows that 65 percent of the parents of children who take classes at Gymboree receive a monthly income between 10,000 and 20,000 yuan. About 25 percent of the parents are business owners and some 10 percent are expats working in China.
My Gym, another child development service provider that focuses on physical education and fitness, is also expanding widely in China. Since the brand was introduced in China in 2009, it has developed more than 70 centers across the country.
Besides imported brands, some local early childhood education providers have also witnessed an increasing number of parents who sign up their youngsters to various programs.
"The idea that we shall not let children lose before they have reached the starting line actually make parents very anxious. Young parents like us have no experience of raising children and we are financially pressured, too," said Wang Fenfei, a 25-year-old mother of a 2-year-old boy.
Wang said Chinese tradition obliges parents to give the best to their children.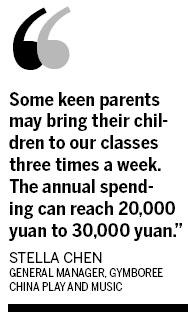 "Being a parent is a job that does not require any qualifications. My husband and I always feel that we are not doing well enough," said Wang.
Chen of Gymboree said she hopes parents may grow together with their children, see the world from a child's perspective and spend more time with them.
The trend is that more and more young parents who are born after the start of the 1980s are quite engaged in interactive activities with their children, which is good for building a positive relationship between parents and their children.
"It is important for parents to remember that it will not benefit children in the long run if they are pushed too hard," said Chen.
A recent survey in which 7,500 families around the world were polled by Gymboree, including 3,000 families in China, revealed that Chinese children under the age of 6 sleep for an average of nine hours and 15 minutes every day, lower than the global average of 10 hours and nine minutes, ranking third last among the countries, which included Germany, the United Kingdom, Australia and the United States.
The average time for outdoor activities for children under 6 in China was about 52 minutes, the least in the 14 polled countries and regions and only 25 percent of the global average of 3 hours and 45 minutes.
The survey also found that Chinese parents spend less quality time with their children than their peers in other countries. In Canada, a child stays with at least one of its parents for more than 23 hours (including sleeping time) every day, while the figure in China is only 12 hours (including sleeping time), the least of the 14 polled countries and regions.
"On one hand, parents are spending a lot of money on their children; on the other hand, parents are spending little time with them. I don't think it is good for the children because they will have an impression that they are brought up by service providers instead of their parents and they are nurtured by material things, not love," said Wang Juxian, a kindergarten teacher in Shanghai who has been working with children for 30 years.
Parents play significant roles in a child's growing-up process. It is essential for parents to let their children cherish their discoveries and imagination, said Lan Hai, a child psychologist with Beijing-based Schwabing Education.
wuyiyao@chinadaily.com.cn