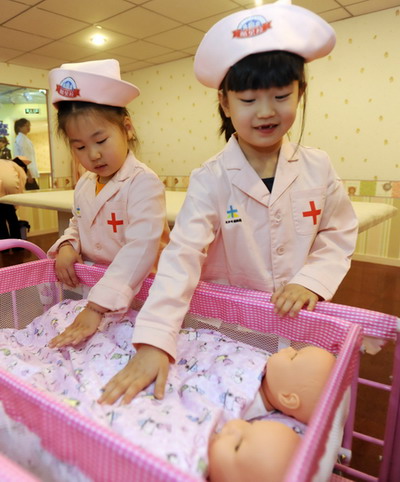 A children's education center in Shenyang, Liaoning province. The sector is booming in China, with domestic and foreign companies in serious competition. [Photo/China Daily] 
CEO says he is willing to learn from anyone, young or old, to expand his firm
On a sunny spring morning, Matthew K. McCauley stared into an aquarium in which jellyfish were dancing up and down. The 39-year-old father of four and chief executive officer of Gymboree Corp, the global leader in play and music centers for children and a major player in youngsters' apparel, is constantly curious and keeps his eyes open for variety and possibilities wherever he goes.
Now he is looking to expand the retail market for children's products in China.
Such items have witnessed a fast-growing market in China as parents attach more importance to the next generation, many of whom are the only offspring of the family. Children of young parents who are in their late 20s and early 30s have increasing purchasing power and they want the best for their beloved.
"Of course we see many competitors in China, an emerging and constantly growing market, but we have our own philosophy behind kids' apparel - let kids be kids," said McCauley.
Like the well-known Gymboree Play and Music program, Gymboree's retail products respect the nature of children.
"We see strong competition of kids' products retail markets in China - lots of very strong competitors, lots of local brands that are doing a great job, lots of foreign brands that are doing a great job here," said McCauley.
Despite the competition, Gymboree decided to join the retail market because retailing is an expansion of what Gymboree stands for - letting children be children.
"We don't do smaller-sized copies of adult fashion wear. Kids are curious, active and creative and they need clothing that they love, instead of dresses adults prefer," said McCauley.
The designs of Gymboree clothes have been described as sweet and wholesome. Hopes are high that Chinese customers will be excited to have Gymboree's retail as well as its music and play centers.
Bearing the idea of "let kids look like kids" in mind, from design drafts to shelf, Gymboree children's apparel does not follow the fashion trends of adults. Instead, designers travel worldwide to undertake intensive research before they find out what children love.
"We actually have Gymboree play and music centers in 38 countries around the world and we have our retail business in several countries. We are just now starting to expand. Our designers come from all over the world and they travel all over the world to come up with design ideas and concepts," said McCauley.