Yiwu factory owners say economic downturn in the West is a boost
YIWU, Zhejiang - Despite Christmas still being a month away, employees at Yihang Christmas Decoration Arts and Crafts company have already stopped working and begun decorating their 26,000-square-meter factory on the outskirts of Yiwu, in Zhejiang province, with leftover seasonal ornaments.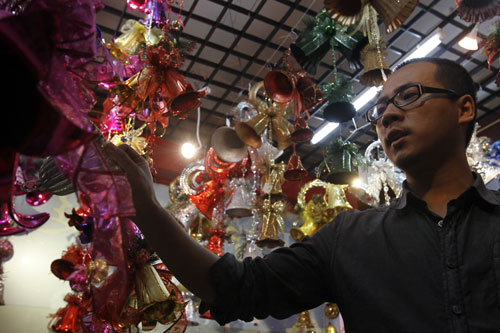 A businessman examining Christmas decorations at his store in Yiwu of East China's Zhejiang province. The man, identified only as Mr Tang, said overseas orders for Christmas products he received this year increased at least 50 percent from last year.[Photo/China Daily]
It's not because they have nothing else to do due to the stagnant economies in Western countries to which the company traditionally exports containers of Christmas decorations. On the contrary, the 700 workers from one of the biggest factories of its kind in the city, if not in the country, are seeing an unprecedented sales boom and are celebrating the moment.
"This is the best year," said Lou Aiju, the wife of the boss, or "laobanniang" as she is generally addressed, of the company. "I cannot tell you how much money we are making this year, but it's definitely the best in its history - something we never expected."
Lou, a 50-year-old Yiwu native, is a witness to the history of Christmas product manufacturing in Yiwu, where more than half of Christmas products worldwide, 70 percent in the United States and 40 percent in Europe, are made.
Lou is one of the earliest manufacturers and exporters of Christmas products in Yiwu. She started the business 15 years ago in the shabby living room of her home with her husband and another seven hands for help, when they barely had any idea what they are doing it for and were simply helping friends in Guangdong to finish orders before the deadline expired.
But now, with a collection of BMWs and other big-name cars in her garage, Lou thinks the best times for Yiwu have come with an ever-increasing number of orders shifting from Guangdong province, the first place in China to make Christmas products.
"There is a 40 percent increase in orders from foreign countries compared with last year, which we thought was already the peak," said Lou, whose company now makes at least 40 million yuan ($6.25 million) a year by exporting Christmas products to more than 50 countries worldwide, including the United States, Russia and Spain.
Chen Jinlin, secretary-general of the Yiwu Christmas Products Industry Association, thinks the number has been underestimated and thinks he knows the reason for the boom during a global economic downturn.
"In August, numbers from customs showed that exports increased 12 percent in volume and 51 percent in value. Now, as the season is about to close, the jump is likely to reach 60 or 70 percent," said Chen.
Chen believes the rise is actually because of the economic downturn.
"Like the Spring Festival for us, people are going to celebrate Christmas anyway. With a tight budget, businessmen from Western countries are favoring low quality and mediocre products made in Yiwu, while the high-end products made in Guangdong face falling demand," he said.
The opinion is shared by Pan Yonggen, a Christmas products tycoon who shifted his base from Guangdong to Yiwu last year.
"All my clients are talking about Yiwu, so I am actually following them here," Pan joked. "The industrial line is set up and it's not very hard for us to restart here."
According to Chen, there are 400 companies and factories focusing on Christmas product manufacturing in Yiwu, one quarter of which opened within the past two years. Altogether there are 15,000 or so different products, including Christmas trees, model Santa Claus figures and colorful baubles, the three most traditional products at yuletide.
"Basically, we can tailor-make any kind of Christmas product, or component, within one week for customers, varying from the beard on Santa Claus to the horn on the reindeer," said Chen.
Another reason that prompted Pan, who had a Christmas products center for more than a decade in Guangdong, to move to Yiwu is the city's fame, especially among foreigners, as a business hotspot.
"Yiwu has earned its name as a world supermarket. It has the popularity that every businessman dreams of. I suspect some of them would be interested in getting into the Christmas industry some time," said Pan.
Mohamad Kamal Ahmad Elsheikh, for example, has recently been inspired to ship some Christmas products back home to Eygpt to make extra money for his holiday.
"Last year, I sent back three containers of Christmas cargo and the response was pretty good," said the 38-year-old businessman who has been in China as a middleman in trading construction materials for more than 10 years. 'Therefore, I am considering more this year, but it depends on the financial and political situation in my home country."
Li Pei, a translator who helps foreign businessmen to talk to Chinese wholesalers in Yiwu, told China Daily that there is a rising interest among her clients to make some pocket money from the Christmas industry.
"The number is very small, accounting for less than 5 percent of my clients. But considering the huge population of foreign businessmen here, the potential is huge if only a small number of them are thinking about that," said Li.
While Westerners are cutting their budgets and spending less on Christmas products, Chinese customers are, on the contrary, more generous and demanding over the holiday.
"In general, orders from domestic companies are by no means comparable with foreign ones," said Chen, the secretary-general. "But, in most cases, they are more interested in expensive items, always asking for 'something more extravagant', while regular and traditional products are more popular with foreign customers."
Lou, the industry magnate in Yiwu, echoes Chen, but says both sides are equally important.
"Everyone is worrying about surging labor and material costs, which have greatly diminished our profits, although, superficially, the turnover is increasing," she said. "We have to improve our designs and quality every year to survive in the industry that so many people are watching with interest."
Lou said: "Now I am letting my people take a couple of months off to enjoy a good Spring Festival or Christmas if they want to. Then, in March, we can all start working toward next year's big triumph."