Qualcomm signs deals worth $12b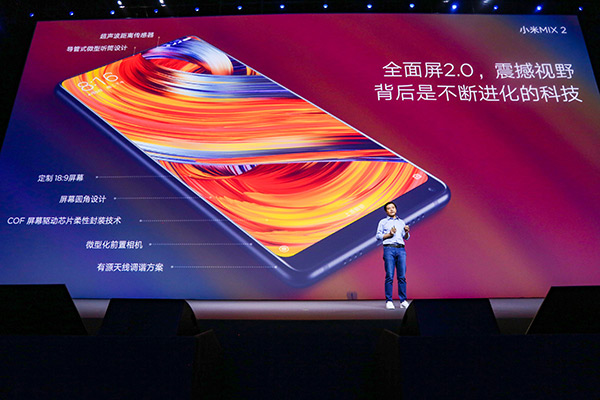 Lei Jun, founder of smartphone maker Xiaomi, presents an updated version of the company's "concept smartphone" Mi Mix, the Mi Mix 2, in Beijing on Sept 11, 2017. The Mi Mix 2 runs on a Qualcomm Snapdragon 835 processor.[Photo provided to chinadaily.com.cn]

Chip giant reaches agreements with three Chinese smartphone vendors
Qualcomm Inc on Thursday signed non-binding deals worth about $12 billion with three of China's largest smartphone vendors as the United States chip giant beefed up efforts to strengthen ties with Chinese players amid ongoing patent disputes with Apple Inc.
Under the memorandums of understanding, Xiaomi Corp, Oppo Electronics Corp and Vivo Mobile Communication Technology said they plan to buy smartphone components, mostly chips, worth at least $12 billion from Qualcomm over the next three years.
The deals are expected to give a boost to the San Diego-based company's financial performance, which was hit by its patent disputes with Apple in the latest quarter.
Steve Mollenkopf, CEO of Qualcomm, said in a statement: "We have been cooperating with Xiaomi, Oppo and Vivo for a long time. We will continue investing into China's semiconductor and mobile industry."
Qualcomm is the world's largest mobile chip maker, but recently it has been involved in a string of challenges. In the quarter ended in September, it posted an almost 90 percent slump in profit, as its ongoing patent battle with Apple hurt its licensing and chips business.
Qualcomm also faces mounting pressure from its rival Broadcom Ltd, which has recently proposed a purchase of Qualcomm for $105 billion.
James Yan, research director at Counterpoint Technology Market Research, said: "The deals can temporarily relieve Qualcomm's pressure and help boost investors' confidence."
According to Yan, most Chinese smartphone companies rely on Qualcomm for high-end chips. Deepening ties with Xiaomi, Oppo and Vivo, which are all growing rapidly, will send positive signals to investors.
"But given the deals are non-binding, it remains to be seen how the partnerships will go on if Qualcomm loses in the patent war with Apple," Yan said.
Apple has continued to withhold patent licensing fees attributable to iPhone and iPad, after it sued Qualcomm for allegedly overcharging unnecessary licensing fees tied to critical smartphone intellectual properties.
Xiang Ligang, a telecom expert and CEO of industry website Cctime, said the deals are based on projections that Xiaomi, Oppo and Vivo will maintain healthy growth in coming years.
"In addition to buying chips, the three companies are likely to work more closely with Qualcomm on research and development of new processors by a slate of efforts, such as giving immediate consumer feedback," Xiang said.
The Qualcomm deals are part of broader agreements signed during US President Donald Trump's first state visit to China, underscoring the strength of commercial partnerships between the world's two largest economies.
"The timing will also significantly boost Qualcomm's brand image," Xiang added.