Bid for Qualcomm may face scrutiny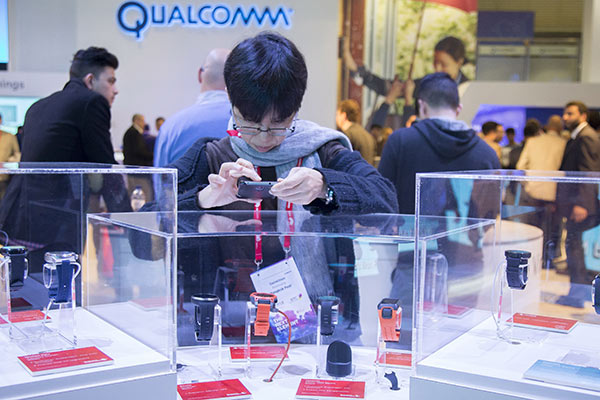 Visitors examine new Qualcomm wearable devices during the Mobile World Congress 2017 in Barcelona, Spain.GETTY IMAGES
Chipmaker Broadcom Ltd's $105 billion proposal to buy its United States rival Qualcomm Inc is likely to face intense regulatory scrutiny in China, given the deal's huge size and potential impact on Qualcomm's joint ventures in the country, analysts said on Tuesday.
Wang Junlin, an antitrust lawyer at Beijing-based Yingke Law Firm, said the alliance, which could create a $200-billion-plus behemoth in the semiconductor sector, will be closely watched by regulators around the world.
Broadcom said on Monday that it plans to pay $70 a share to acquire Qualcomm in the largest-ever takeover in technology sector. The offer represents a 28 percent premium over Qualcomm's closing price on Nov 2.
"The sheer size of Qualcomm and Broadcom will definitely trigger worries about monopoly and unfair competition," Wang said.
According to him, it is highly likely for regulators to add conditions to the deal, or only allow Broadcom to acquire part of Qualcomm's business, so that the two won't form into a giant that has tremendous bargaining power.
Qualcomm is the world's largest maker for smartphone chips. It is in the process of closing a $38 billion bid it made last year for automotive chipmaker NXP Semiconductors NV. A combined Broadcom-Qualcomm-NXP would have dominant control over modems, Wi-Fi, GPS and near-field communications chips, all important components in smartphones and internet-connected vehicles.
In 2015, Qualcomm was fined $975 million in China for unfair and excessively high royalty payments it collected from local smartphone makers.
The Ministry of Commerce, one of the antitrust regulators in China, did not immediately respond to requests for comments.
Roger Sheng, a senior analyst at research company Gartner Inc, said the deal, if it goes through, will impact Qualcomm's three joint ventures in the country, which produce chips for servers, smartphones and drones.
"Qualcomm is transferring technologies to the three JVs. It remains unclear how such a partnership will go on if the deal is made. It is possible for Broadcom to sell the JVs to Qualcomm's local partners, for the common practice for Broadcom is to sell all nonessential assets," Sheng said.
The deal came amid a wave of acquisitions that occurred in the global semiconductor industry to prepare for the explosion of 5G and artificial intelligence technologies.
China is also spending big to cultivate a strong homegrown chip sector to reduce reliance on foreign companies. A string of local players such as Tsinghua Unigroup and Fujian Grand Chip Investment Fund are scrambling to beef up chip design and manufacturing capabilities.
Zhong Nan contributed to the story.