Global legal brawl between Qualcomm, Apple rumbles on
Experts see the dispute - part of intense international rivalry - probably going to mediation
The recent patent lawsuits between Qualcomm and Apple in China will probably end in mediation after a prolonged wrangle over the interests of the two IT giants, industry experts said.
Qualcomm filed the lawsuits at the Beijing Intellectual Property Court last month against Apple, claiming the latter had used three of its non-standard essential patents for smartphones without paying for them, including power management and a touch-screen technology called Force Touch.
It asked the court to ban the manufacturing and sales of iPhones in the country.
However, Apple said the patents had never been discussed in its previous negotiations with Qualcomm, and the recent legal action was without merit. A spokesperson said Apple was always willing to pay for the use of patents, but Qualcomm had asked for irrational licensing fees.
Although its chips manufacturing unit has contributed the largest share to Qualcomm's sales revenue, most of its profits come from its patent licensing department.
The company owns about 130,000 patents covering not only phone chips, but also fundamental technology in mobile communications, inevitably used by most smartphone makers.
It charges a percentage of the price of each handset regardless of whether it includes a chip from the company, known as the "Qualcomm tax" to many phonemakers.
It was fined $975 million in China in 2015 for an effective monopoly, and $854 million in South Korea last December for the same reason.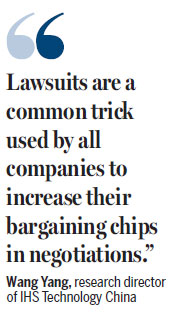 Earlier this year, Apple filed an antitrust suit against Qualcomm arguing that the chipmaker's licensing practices were unfair, and that it abused its position as the biggest supplier of chips in phones.
It also cut of licensing payments to Qualcomm, which means about $2 billion a year in highly profitable revenue, Bloomberg reported.
That in turn forced Qualcomm to lower its earnings forecasts.
"Qualcomm faces resistance from phonemakers, governmental anti-monopoly investigations and the growing competitiveness of its rival MediaTek at the same time," said IT columnist Jia Jinghua.
"Apple's cut-of of licensing fees will impact Qualcomm as it accounts for 12 percent of the latter's patent licensing profits."
Wang Yang, research director at market analysis company IHS Technology China, said the recent move against Apple was the result of the "increasing pressure Qualcomm feels."
Xiang Ligang, CEO of telecom industry website Cctime, said Apple had abused its market dominance, too.
He said Apple had redefined smartphones and contributed greatly to the development of the world's smartphone industry, and it had been lavishly rewarded in return, grabbing 90 percent of the profits in the business globally.
Apple features a "closed" system, from its chips to operation systems, while Qualcomm represents another model, licensing its technology to the world's phonemakers so that they all can develop first-class products to compete on the market.
"Without Qualcomm, there would be no companies like Oppo, Vivo and Xiaomi in China, as they would have to start from the fundamental chips," Xiang said. He added that the Chinese smartphone makers pay patent licensing fees to Qualcomm, and if Apple does not, it will increase market unfairness.
You Yunting, a lawyer and partner at Shanghai-based DeBund Law Offices, said the recent lawsuits were only part of a long-term global battle between the two companies, and it will take at least three to five years to resolve them.
Besides patent lawsuits, both sides may also launch a series of other legal actions involving anti-monopoly and competition law, You said.
Most industry insiders said it was unlikely that iPhones would be banned in China.
Even if Qualcomm wins, Apple can appeal to a higher court, said Wang Yang from IHS Technology China.
"Lawsuits are a common trick used by all companies to increase their bargaining chips in negotiations," Wang said.
zhangzhao@chinadaily.com.cn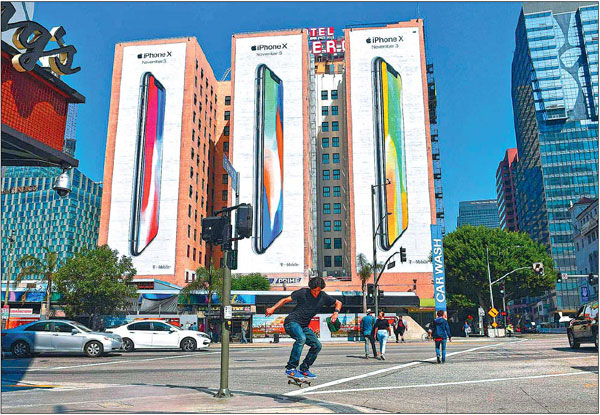 A skateboarder jumps the curb crossing a street in Los Angeles, California, where advertising for Apple's new iPhone X, due for release on Nov 3, covers the sides of a building. Frederic J. Brown / For China Daily
(China Daily 10/19/2017 page16)
Today's Top News
Editor's picks
Most Viewed