Roadside parking with EV charging launches in Shenzhen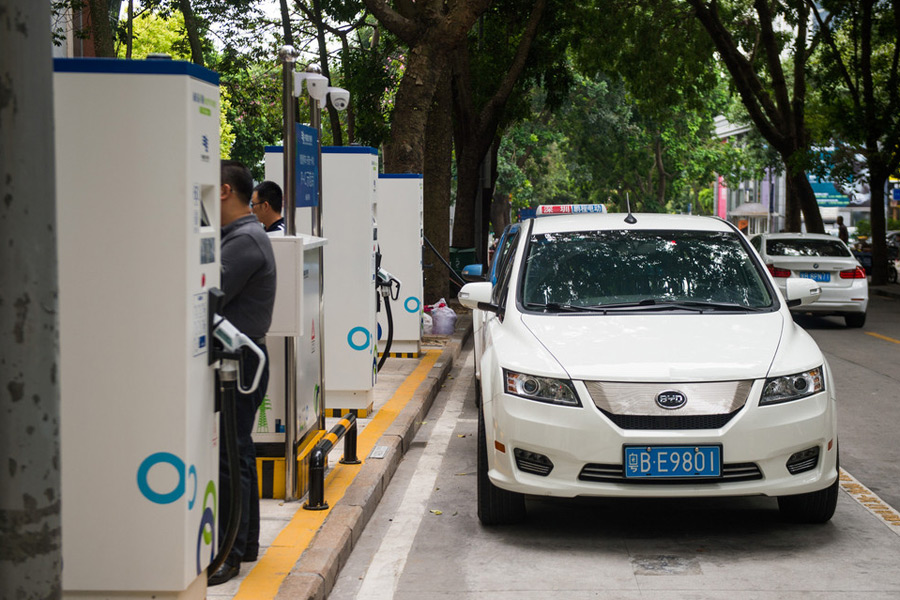 A BYD electric vehicle waits to be recharged at a roadside parking with electric vehicle charging piles in Shenzhen, South China's Guangdong province, on Nov 8, 2017. [Photo/IC]
China's first roadside parking with electric vehicle charging piles was put into operation on Oct 24 in Shenzhen, Guangdong province, according to a report by China Energy News.
Equipping the first four parking sites with EV charging piles, the pilot project aims to tackle the unbalanced distribution of EV charging stations and the shortage of land for constructing charging facilities.
"Every time our electric vehicles run out of power, we have to go to the fixed stations to charge them," a taxi driver charging his vehicle at the parking told dutenews.com. "If this kind of parking with EV charging piles can be launched on every roadside and the one-hour free roadside parking policy for new energy vehicles can be implemented, we will never consider charging a problem for long distance driving."
At present, a total of 7,293 electric taxis have been running in Shenzhen, accounting for 35 percent of the city's total taxis, dutenews.com reported. By the end of this year, the city is expected to have more than 10,000 electric taxis put into operation. And by 2020, all taxis in Shenzhen, expected to number 22,000, will be electric vehicles.
With a vehicle-to-charging pile ratio of three to one, the shortfall of charging piles will be 1,500 and 5,500 by the end of this year and 2020 respectively, according to the report. To solve the gap, more roadside parking with EV charging piles will be set up in the city.