Keying in an Indian theme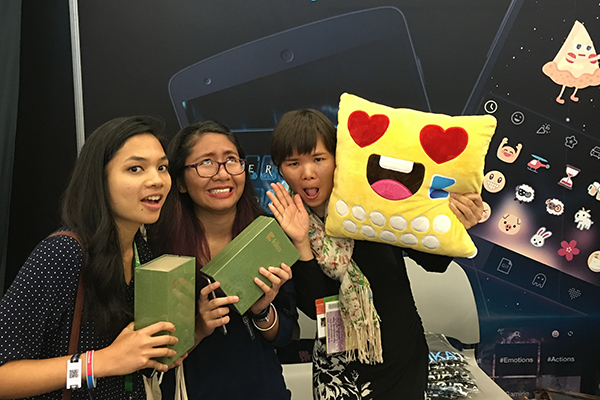 Vistors pose with Kika emoji pillows at South by Southwest Conference in Texas in March 2016. [Photo provided to China Daily]
Kika Tech sees big opportunity in digital keyboards for subcontinent
Abhishek Shome, a 26-year-old Indian working with a Chinese smartphone keyboard app developer in Beijing, speaks six languages: English, Chinese, Hindi, Bengali, Punjabi and Assamese. The last three are provincial languages while Hindi is India's national language.
Shome received his master's degree in computer science from Jain University in India in 2013.
Using his skills and knowledge, he assists his team in designing smartphone keyboard input methods for some Indian languages, a job he describes as "very meaningful".
Shome's employer Kika Tech Inc said it will scale up its operations in the India market this year. As India is a land of many languages and dialects, Kika sees a big opportunity. More so because young Indians prefer texting and messaging to communicate in their respective native language.
"In the internet and smartphone era, some languages are in danger of dying," said Hu Xinyong, CEO of Kika. "We hope to play a role in preserving indigenous languages and cultures of India."
So, Beijing-based Kika will increase its research and development budget by 10 times to 50 million yuan ($7.2 million) this year, and would employ more Indian programmers and linguists.
After implementing similar projects successfully for a Russian minority group, Kika has so far developed smartphone keyboards for 22 languages in India, including Hindi, Bengali, Marathi, Punjabi, Tamil and will further improve the existing software.
Take Punjabi, a language used by about 2.3 percent of India's billion-plus population. Having stabilized the first version, Kika's second version would need less typing and add more multimedia elements, said Shome.
As the input method becomes increasingly stable, more and more young Indians will be able to communicate via text or messaging apps in their native language rather than Hindi or English, said Hu.
Kika has also hired Indian designers to make emojis, graphics and themes with a strong local flavor. For instance, a user can customize the smartphone keyboard's layout featuring Taj Mahal.
Kika has reached millions of daily active users on average across India until late 2016, and the number is projected to exceed tens of millions this year, claimed its vice-president Ma Xuefeng in an earlier interview with China Daily.
An increasing number of Chinese internet and software companies are reportedly heading for the India market where the mobile business is booming.
According to a report released by Beijing-­based developer SHARE it Technologies Co Ltd, India became the world's second biggest mobile internet market after China, as its mobile internet users increased to 325 million till June 2016.
Ericsson AB, the world's largest maker of wireless networks, forecasts in a report that by the end of 2021, the number of mobile Internet users in India will exceed 1.37 billion, including 810 million smartphone users.
But the cultural gap is the biggest challenge Chinese app firms face, according to Zhao Ziming, an analyst at internet consultancy Analysys.
"Firms specializing in smartphone keyboard input apps may face more challenges than developers of tools such as browsers and social media software. That's because the demand for keyboards in certain languages is relatively small, while companies need to do lots work to facilitate their localization there," said Zhao.
Kika is no exception. To cope with the challenges, Hu said it has been negotiating with smartphone manufacturers and carriers both in China and India. The agreement with Huawei Technologies Co Ltd allows Kika keyboard to be installed as a default input method on Huawei's phones sold in India.
It also cooperates with Indian linguists and universities to offer more precise and efficient products.