Alibaba's ambitions for US expansion seen at risk after vote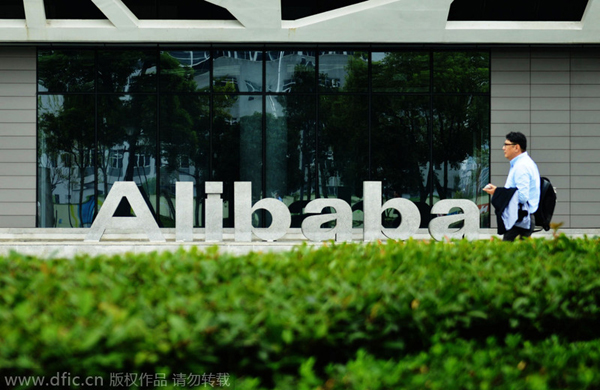 Visitor walks at the headquarters of Alibaba Group in Hangzhou city, East China's Zhejiang province, Sept 21, 2014. [Photo/IC]
Chinese internet companies face a new reality after Donald Trump's surprise victory as US president-elect-and Alibaba Group Holding Ltd has the most to lose.
On the campaign trail, Trump promised to upend global trade, saying that China is " killing us" on trade policy and proposing tariffs on Chinese goods of as much as 45 percent. If implemented, his ideas could lead to "devastating" results, from global trade wars to higher costs of living, and "spell the end of globalization," according to Darrell West, a vice-president at the Brookings Institution.
"He was very critical of Chinese trade agreements and has threatened to rip them up," West said. "If he did that, the consequences for Chinese companies would be enormous."
Of China's web giants-including Baidu Inc, Alibaba and Tencent Holdings Ltd-Trump's trade policies, if implemented, are likely to pose the biggest threat to e-commerce operator Alibaba. While Baidu and Tencent focus on the domestic Chinese market, Alibaba has a significant part of its business tied to trade with the US. Higher tariffs on Chinese goods would depress demand for its AliExpress site, where Chinese retailers sell to US consumers. Ensuing trade disputes could hurt sales on its Tmall platform, where US and international brands sell to Chinese consumers.
"Given the direct and indirect risks, the election probably will have the greatest impact on Alibaba, more than any other Chinese internet business," said Gil Luria, an analyst at Wedbush Securities Inc. "If there are disruptions in trade, it would impact the willingness and likelihood of US brands and retailers to take an active part on Tmall."
Alibaba's management has said that its primary short-term focus isn't consumers in the US, and that it is trying to gain share in developing markets first. Trump's presidency will probably solidify Alibaba's decision to target US consumers in the longer-term, according to Luria.
Yet Trump's policies could upset Alibaba's plan to act as the gateway for international retailers to reach Chinese consumers. If new policies caused China to retaliate and raise tariffs on US goods, that could hurt Alibaba's Tmall sales in China, Luria said.
"A positive relationship between the US and China is important for the world," an Alibaba representative said in a statement. "We believe Alibaba is doing its part by enabling US businesses, large and small, to access the China market, creating American jobs and economic opportunity."
Bloomberg