More and more of China's richest citizens are hunting for overseas properties ahead of their retirement.
More than 1.3 million Chinese have assets worth over 10 million yuan ($1.48 million), a 10.7 percent increase compared to last year, according to a Hurun Research Institute and China CITIC Bank report.
These high earners continue to be attracted to the international property market.
While investment, children's education and immigration remain the main reasons, the report found more and more "ultra-rich" people are buying properties overseas for their retirement. That trend was strongest among those with more than 100 million yuan and aged over 45. Currently,14.3 percent of the ultra-rich, who own a house overseas want to live abroad when they retire.
The report predicts that the high levels of overseas property investment will drop as the wealthy find new ways to spend their money. It found 30 percent who have overseas properties plan to buy up more housing abroad, but 50 percent don't intend to increase their stake.
The United States remains the top destination for wealthy property buyers with 66 percent investing in the country's real estate market.
See which other countries make up the top 10 most popular real estate markets for high-net-worth individuals.
10. Spain
1.7 percent of China's 1.3 million high-net-worth individuals bought properties in Spain.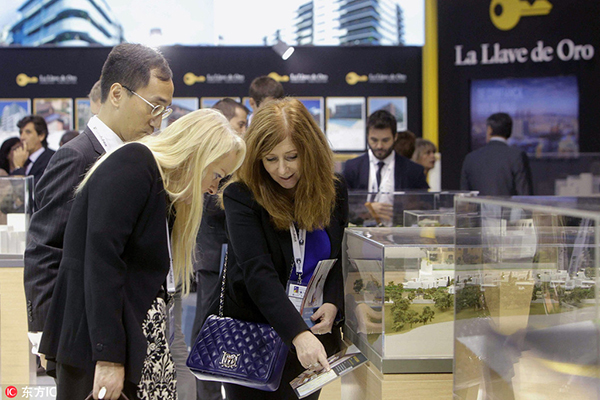 Visitors check one of the stands at a real estate exhibition in Barcelona, Spain, Oct 21, 2015. [Photo/IC]