All eyes on HK as Alibaba offers big promotions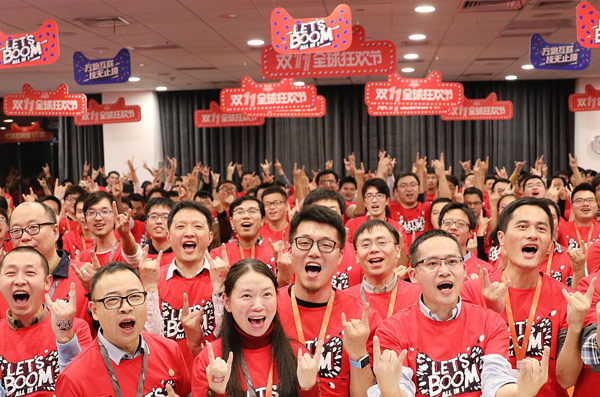 Workers cheer after a rehearsal for the Singles Day (Nov 11) shopping frenzy at the headquarters of Alibaba Group Holding Ltd in Hangzhou, Zhejiang province, on Nov . Provided to China Daily
Mainland e-commerce giant Alibaba Group Holding Ltd said it is attaching great importance to the Hong Kong market this year.
Taobao and Tmall, two platforms run by Alibaba, are offering a large number of promotional plans particularly in Hong Kong on Singles Day, the nation's biggest online shopping festival, in an attempt to tap into local demand for online shopping.
Hong Kong shoppers, however, apparently have mixed views about Alibaba's promotional efforts. Sophie He Shan, a frequent user of Taobao in Hong Kong, was quite excited about the shopping festival.
"The website offers free shipping to Hong Kong on Singles Day, which is definitely an advantage, so I decided to buy some stationery," she said. "But it takes a long time for the goods to be shipped here. I waited for several weeks for my previous parcel."
According to Taobao, free shipping is offered during the 24-hour festival only for designated products sold in Hong Kong, while other products can enjoy a 50 percent shipping discount.
Other Hong Kong users feel indifferent to the Singles Day shopping festival, while expressing concerns about the quality of the goods.
"South Korean shopping website Gmarket has a mega sale on right now, and local shopping mall Sogo's Thankful Week will start from Friday, so I have much more choice," said Cathy Ng, a 29-year-old office worker in the city.
"I don't think it's a 'must' to shop at Taobao on Singles Day. I'll just shop around to get the best deal," she added.
"The free shipping policy sounds attractive and I saw that many brands are giving heavy discounts, but I have doubts about the quality of goods," Ng said. "I've always heard about fake products sold on Taobao."
Despite the skepticism about its goods, Alibaba is nonetheless sparing no effort to introducing promotional measures, not only lowering the cost of shipping, but also making it easier for overseas users to make payments.
After Alipay launched its Hong Kong dollar service last month, customers can now pay by local currency on the shopping platform through Alipay, accelerating the payment process and reducing any potential exchange loss.
Other payment methods include Visa, MasterCard and Octopus. Each payment method enjoys a different rebate offer.
The Hong Kong Monetary Authority granted five Stored-Value Facilities licenses in August to electronic payment operators including Alipay, Octopus and HKT Payment. The authority said the implementation of SVF licensing would facilitate the adoption of new retail payment options and safeguard users.
As Alibaba tries to expand the Singles Day shopping festival from being a mainland sales event into an international sales event, Hong Kong has become a key testing ground.