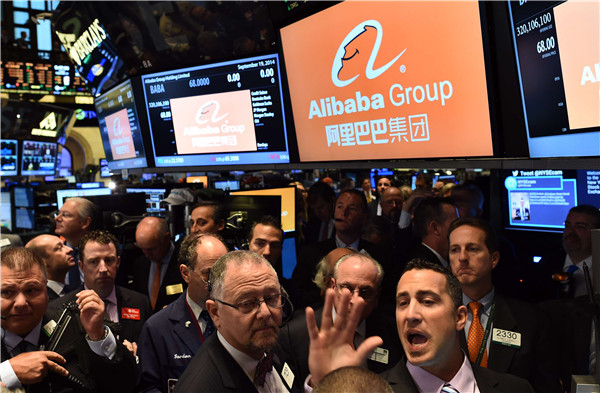 Traders wait for Chinese online retail giant Alibaba's stock to go live on the floor at the New York Stock Exchange in New York on Sept 19, 2014. In 2015, Gucci and other brands owned by Paris-based Kering SA filed a suit in New York against Alibaba.[Photo/Agencies]
Alibaba Group Holding Ltd said it was being investigated by the US Securities and Exchange Commission (SEC) over whether the Chinese e-commerce company's accounting practices violated any federal laws.
The company has provided the SEC with information about its accounting for logistics unit Cainiao Network as well as operating data from its Singles' Day shopping festival, according to Alibaba's annual report filed on Tuesday.
The SEC advised the company that the investigation should not be seen as an indication that Alibaba had violated federal securities laws, Alibaba said in a regulatory filing. "This matter is ongoing, and, as with any regulatory proceeding, we cannot predict when it will be concluded," Alibaba said.
Asked for comment on Wednesday, an Alibaba spokesperson said the disclosure of those financial details are "exactly the kind of robust and transparent information that will address the underlying issues in SEC's inquiry."
Singles' Day is the biggest shopping festival in the world, and accounts for more than the combined sales of the Black Friday and Cyber Monday shopping events in the US.
The focus of the SEC probe was not immediately clear, but critics have in the past complained that Alibaba reports Singles' Day sales in terms of gross merchandise volume, or GMV.
GMV tallies the monetary value of buying activity over a certain period of time, but it doesn't take into account various hiccups -- for example, customer returns, or if the seller runs out of stock and can't deliver the product. Last year, the Hangzhou-based firm reported GMV sales of $14.3 billion on Singles' Day.
Cainiao Network handles the vast majority of Alibaba's deliveries. Alibaba owns a 47 percent stake in the firm, which recently raised 10 billion yuan ($1.5 billion) from investors.
How Alibaba accounts for the financial performance of Cainiao has drawn criticism.
In its annual report, Alibaba reported that Cainiao had a net loss of $94 million in 2015 on revenue of $472 million.