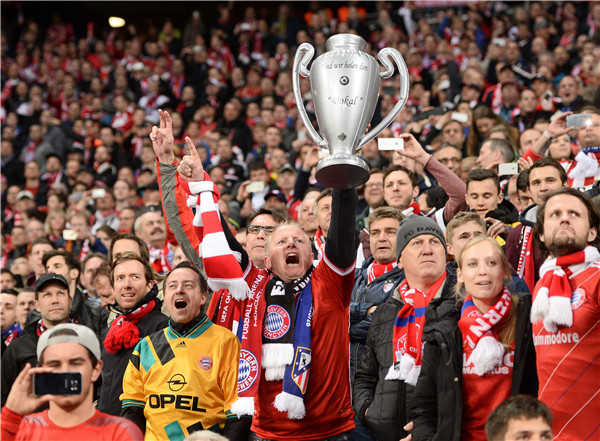 Bayern Munich's fans cheer with a mock-up of the trophy prior to the UEFA Champions League semifinals, second-leg match between FC Bayern Munich and Atletico Madrid in Munich, Germany, on May 3. MP & Silva Ltd is one of the world's largest sports program distributors.[Photo/Agencies]
Everbright Securities and Baofeng Technology 'right partners', according to media giant
Two Chinese companies-Shanghai-based brokerage and financial services provider Everbright Securities Co and Beijing-based internet entertainment and technology group Beijing Baofeng Technology Co-have bought a 65 percent stake in MP & Silva Ltd, one of world's largest sports program distributors.
MP & Silva distributes sports programming to more than 200 broadcasters in 215 countries, including English Premier League soccer and Formula One racing.
Baofeng Technology said on Wednesday the acquisition, for an undisclosed amount, was made through it and Everbright's jointly owned investment fund Shanghai Jinxin Investment Advisory Partnership.
Their 10-billion-yuan ($1.525 billion) Shanghai-headquartered fund invests in culture, the internet, sports, education and several other sectors, according to its prospectus.
MP & Silva said in a separate statement that it and Baofeng Technology plan to cooperate in the management of sports media rights, as well as on sponsorships and consulting services. The sports media rights firm also said it will have access to technology like virtual reality and internet-based services.
Analysts said the acquisition deal would provide a boost to the media company's global growth, boost Everbright's profits from the growing sports sector and help with Baofeng Technology's efforts to develop content diversity.
Private equity and venture capital funds as well as some of China's A-share listed companies have all been investing heavily in the sport sector in the past months, making it of the most popular industries in the capital market, said Zhongtai Securities Co in a research note.
"In the 15 months between January 2015 and March 2016, as many as 257 financing deals with a combined value of 17.4 billion yuan have been recorded. Media copyright distribution, electronic sports, sports venue operations and agency services have become the most popular subcategories for investors," the note said.
MP & Silva CEO Marco Auletta said the deal come after a competitive sales process involving lots of interest from international companies and private equity funds, according to Reuters.
Auletta added that Everbright and Baofeng Technology had emerged as the right partners to support his group's international growth and help it expand into areas such as virtual reality, where Baofeng Technology was a key player in China.
Everbright Securities CEO Xue Feng said he hoped Baofeng Technology and MP & Silva will jointly develop business in the mainland market and enjoy the opportunities brought by the fast growth of the sport sector in China.
Larry Feng, CEO of Baofeng Technology's, said MP & Silva was a well-known player in the market and had long-standing partnerships with some of the most important rights-holders and broadcasters and other content distributors in the world.