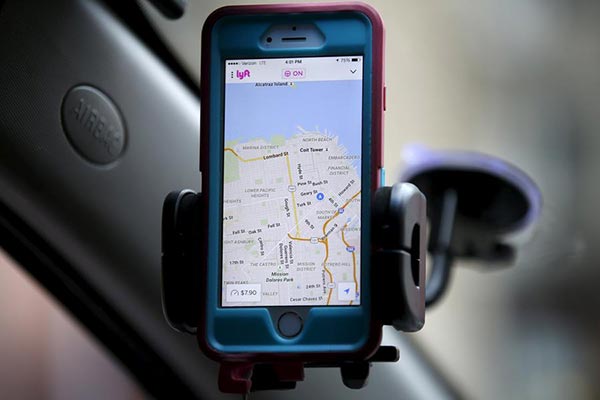 A smartphone app for Lyft drivers is seen during a photo opportunity in San Francisco, California February 3, 2016.[Photo/Agencies]
Lyft Inc, the online ride-hailing and sharing service provider, is looking to leverage its alliance with China's largest player in the fast-expanding sector, in an effort to become a dominant force in the United States within two years.
John Zimmer, president and co-founder of the San Francisco-based company, said in Beijing on Wednesday that Lyft is aggressively gaining market share from Uber Technologies Inc, the US' biggest ride-hailing operator.
"We aim to gain a majority share of the US market in the near term," he said in an interview held at the office building of China's Didi Kuaidi, which invested $100 million in Lyft in September.
According to Lyft's latest statistics, it now completes 7 million rides per month in more than 190 cities in the US. Zimmer said he expects the company's collaboration with Didi Kuaidi to give a strong boost to domestic US push.
Didi Kuaidi, India's Ola, Southeast Asia's GrabTaxi and Lyft entered a four-way partnership in December, which involves collaboration on a new feature on their existing taxi-booking apps to give their users access to each others' cabs in their respective markets.
"The service is expected to roll out in another two to three months," Zimmer said.
"Didi Kuaidi's users in China can hail cars from Lyft when they visit the US by using the same app they use in China and Lyft's users can hail cars from Didi Kuaidi when visiting China. We want to offer customers a seamless experience."
Since Lyft teamed up with Didi Kuaidi, Zimmer has visited Beijing several times to share information on the latest developments at his company with Didi Kuaidi, and the new tactics Lyft's competitors have been adopting.
Zimmer, who co-founded the company in 2012, said the collaboration has great potential, as millions of people travel between China and the US every year, "and the numbers are rising at an annual rate of 20 percent".
Despite opportunities arising all over the world for car-hailing services, Zimmer said Lyft wants to primarily focus on its home market in the near future.
Some industry observers doubt Lyft's future in the US, however, in that it remains a distant No 2 behind Uber.
But Zimmer said Lyft is on a better track for development, given it was born three years later than its main rival.
"We have raised more money and had a bigger valuation than Uber when it was three years old," he said.