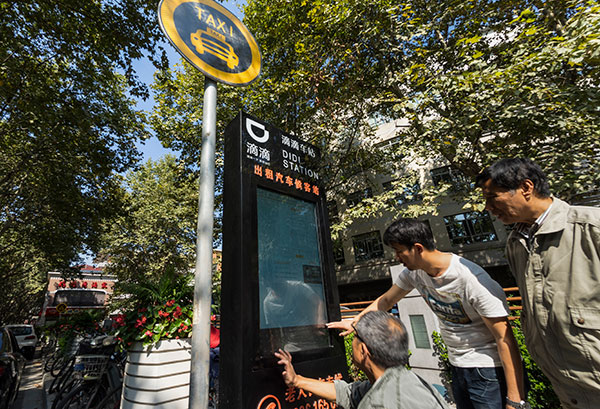 A passenger uses a Didi Kuaidi cab-booking station in Shanghai.[Photo/CFP]
Four cab-via-app companies to roll out new international booking service by March
Four cab-via-app providers on Friday formed a cross-continent alliance to take on their common global rival Uber Technologies Inc.
China's Didi Kuaidi, India's Ola, Southeast Asia's GrabTaxi and United States' Lyft Inc said they will roll out a new feature on their existing taxi-booking apps to give their users access to each others' cabs in their respective markets.
For example, Friday's agreement would enable Didi Kuaidi's Chinese patrons to hail Ola cabs in India, Lyft taxis in the US and GrabTaxi services in Southeast Asia. Similarly, patrons of Ola, Lyft and GrabTaxi can use Didi Kuaidi's services in China.
Didi Kuaidi and Lyft already have such an agreement. Lyft is Uber's rival in its home market, the US. Uber operates in 67 countries and regions across the world.
The new feature is expected to be launched in the first quarter of 2016, the four services providers said in a joint statement.
They claimed the new feature will help nearly half of the world's population.
In recent months, Didi Kuaidi, which is China's largest cab-hailing app, has made investments in Ola, GrabTaxi and Lyft.
Market observers see the four-way partnership agreement as part of Didi Kuaidi's globalization strategy to counter Uber's growing global presence.
"The partnership with Lyft, GrabTaxi and Ola allows Chinese users unprecedented ease of international travel, and helps each of us improve our own services, leveraging our collective technology and expertise. This is a win for the diversity and vitality of the global ride-sharing industry," said Cheng Wei, chief executive officer of Didi Kuaidi.
"As Didi Kuaidi consolidates market leadership across all main verticals, we are now focused on applying more refined big data tools to further develop product innovation and enhance the user experience," he said.
According a Bloomberg report, Uber has raised about $10 billion in previous fundraising rounds and is seeking to raise a further $2.1 billion. It is in cutthroat competition with Didi Kuaidi in China that now accounts for a rapidly growing share of Uber's global business.
Friday's joint statement said Didi Kuaidi, Ola, GrabTaxi and Lyft have collectively raised about $7 billion so far.
Zhang Xu, an analyst with the Beijing-based Internet consultancy Analysys International, said: "It (the strengthened alliance) is a very fast way to expand global presence via financial investment compared with Uber's way of hiring locally and building up local teams."
Now, Didi Kuaidi has a strong presence in Asia and the US, he said. "Didi Kuaidi is likely to use the same method to enter the European market."
There is a downside though. "Didi Kuaidi doesn't own these companies 100 percent. It is very difficult for it to take full control. And making sure its Chinese users enjoy the same quality of ride-sharing service in different countries is also a challenge. After all, they are still four independent companies," said Zhang.