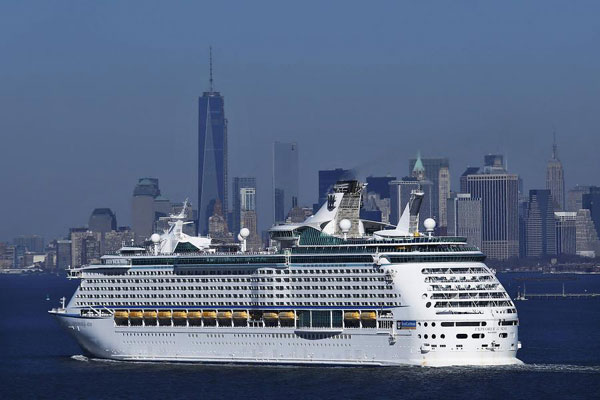 The New York skyline is seen in a distance as Royal Caribbean's Explorer of the Seas enters New York harbour Jan 29, 2014. [Photo/Agencies]
A privately owned Chinese cruise company is making Shanghai the home port of its first luxury liner, which will make its maiden voyage in March after a major refit.
The Glory of the Sea arrived in the city's port on Monday, said Wei Tao, the chairman of Taihu Cruise Management. The 12-year-old vessel can accommodate 1,400 passengers and was bought from a world leading cruise corporation.
"The ship was designed according to Western tastes, so we are making some adjustments to its inside decor, to suit Chinese preferences," he said.
Its reading room and library, for instance, are being converted into entertainment rooms where people can play card games and mahjong, while its shopping space will also be expanded to offer a wider choice of goods.
"A cruise ship can usually operate for 50 years in Europe, but according to Chinese regulations, they can be in service for no more than 30 years, meaning the Glory of the Sea can be used for another 16 to 18 years," said Wei.
He also said the company has already started negotiations on buying a second ship, and is close to paying a down payment on the vessel.
It plans to raise an estimated $2.1 billion over the next five years, some of that through institutional investors, which could allow it to buy another five to six luxury vessels, he said.
"We are considering buying new ships, too, but they would take between three to four years to build."
China's luxury cruise market is expanding fast. Last year, half of the 1.4 million Asians taking a cruise trip were from China, according to Maurizio Cergol, a cruise ship designer from Fincantieri SpA, the Italian shipbuilding company.
Chen Jun, the vice-president of Waigaoqiao Shipbuilding Co Ltd - which is starting work in 2017 on the country's first home-built luxury cruise ship - told China Daily this week that he reckons as many as 4.5 million Chinese passengers will be taking regular cruises by 2020, and that figure will soar to 17.5 million by 2030.
Wei said that while Taihu Cruise Management may not have the same scale as international counterparts, or the government support afforded to other local competitors, as a private liner company it has distinct advantages.
The company's staff are all highly experienced, he said, especially in international markets. Many have worked particularly with Chinese tourists especially customers born in the 1980s and 1990s.
"Chinese travelers like to spend more time visiting scenic spots and shopping, so we will launch more flexible travel packages to suit them, such as cruises plus air travel," said Wei, an option which offers "the leisure of cruising with the excitement of regular travel".