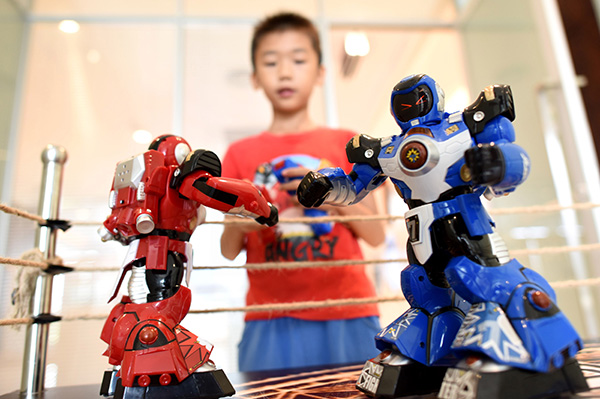 Robots on display at a newly established supermarket for robots in Foshan, Guangdong province. The store, covering 6,000 square meters, showcases various models produced by Chinese companies. [Photo/Xinhua] 
Do many hands really make work light?
That is what I asked myself when I visited the Pennsylvania, United States-based West Hershey chocolate plant, the largest factory of the American confectionary maker the Hershey Company one month back.
Inside the plant, large-scale and highly automated machines and conveyors far outnumbered humans. Almost every process along the production line, from chocolate tempering, molding, defect detecting to the final wrapping and packaging, was carried out by machines.
Pieces of Hershey Kisses, its signature product, were moving so fast on the conveyer belt that they appeared in a blur. The wrapping machine, as our tour guide told us, can wrap up to 900 Kisses a minute.
I even noticed that a small but sophisticated move-shaking the chocolate bars right before they turn from liquid into solid in the molds so as to prepare them for wrapping-was done by machines.
Toward the end of the production line, giant robotic arms picked up the finished candy, packaged them into cases and hoisted them into the position ready for transportation.
During the tour, I spotted only a dozen workers, most of whom were monitoring the computer screens to ensure the production runs smoothly while some others were doing maintenance work.
"I am really impressed by the high level of automation here at the American plant," Xiao Li, a member of our visiting group and production manager of Shanghai Golden Monkey Food Co Ltd, told me. Her company was acquired by Hershey two years ago.
Xiao told me that her factory in China remains very labor-intensive and one production line will often require about 1,000 workers whereas the entire Hershey factory employs just about 700 workers.
The sharp contrast described by Xiao made me realize that even though economists began to talk about the end of the cheap labor era in China and the trend of moving up the value chain by upgrading the manufacturing capability years ago, the reality could be dimmer.