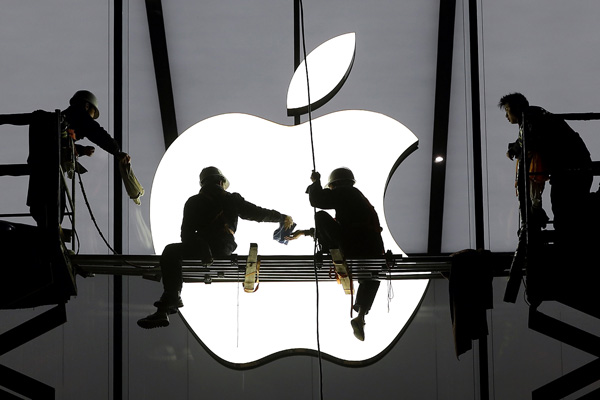 Workers prepare for the opening of an Apple store in Hangzhou, Zhejiang province, January 23, 2015. [Photo/Agencies]
Apple's latest "bigger than bigger" slogan for the iPhone is turning out more and more apt as the company sets the record as the first US company to be worth more than $700 billion.
Apple stock rose 1.9 percent on Tuesday, closing at $122.02. The company's market capitalization ended the day at $710.7 billion, almost double the valuation of the next biggest firm, oil giant Exxon Mobil.
According to Bloomberg.com, this is the first time a US company's value has reached $700 billion.
Apple Inc secured 21.5 percent of the Chinese urban smartphone market in the fourth quarter of 2014, up from 19 percent a year earlier, reported Xinhua News Agency.
Apple is the most popular brand among rich Chinese women with the long-time No 1, Chanel, dropping to second, according to Chinese Luxury Consumer Survey 2015 released by Hurun Report.
"We are a big believer in China," said Chief Executive Officer Tim Cook in a prior conference call. "I think people there love Apple products."
Apple debuted the iPhone 6 and iPhone 6 Plus in mid-October on the Chinese mainland.
According to research firm Canalys, thanks to the huge popularity of the latest versions of iPhone, the company was the biggest seller of handsets in the fourth quarter in China last year, something that even the late Steve Jobs could not do during his glory days.
Apple is looking to open 40 brick-and-mortar stores in China by mid-2016.
Although domestic vendors such as Xiaomi and One Plus are keen on expanding in India and other overseas emerging markets, the potential of the nation's handset market still expanding.