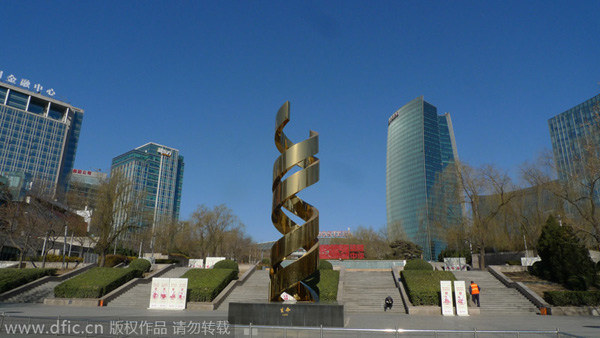 Photo taken on March 17, 2014, shows the Zhongguancun Science Park, known as China's "Silicon Valley" in Beijing. [Photo/IC]
The accumulated market capitalization of the listed companies in China's "Silicon Valley" broke 2 trillion yuan ($330 billion) for the first time last year, a local industry organization revealed on Tuesday.
Baidu Inc and Lenovo Group Ltd kept the top two positions in the market cap while the values of smaller companies also surged, according to Zhongguancun Listed Companies Association.
The market value of the companies stagnated at around 1.3 trillion yuan since 2011 due to a sluggish global economy and short-selling moves from the US market.
"The capital markets in and out of China are obviously in favor of Zhongguancun listed firms starting from 2013 because the companies are among the most competitive technology-driven enterprises in various sectors," said Yin Weidong, president of the association.
The Zhongguancun Science Park, located in the northwestern suburbs of Beijing, is home to around 200 listed companies, most of which are in the Internet, electronics and software industries. The area has been dubbed China's answer to Silicon Valley in the US, the most vibrant technology innovation hub in the world.
Roughly 65 percent of the listed companies in Zhongguancun were on domestic stock exchanges while the rest went to Hong Kong or New York security houses, according to the association.
"The strong innovation capability of Zhongguancun-based companies lured many investors over the past year," said Wen Jianping, chairman of water refinery equipment maker Beijing Origin Water Technology Co Ltd.
"Development strength is the key factor for the companies to outperform the industry average."
Mobile Internet is the largest sector by market cap in Zhongguancun, led by the country's top search engine provider Baidu.
The company's value neared 380 billion yuan by the end of last year.
Lenovo, the world's largest personal computer maker, ranked second with 70.7 billion yuan in the market cap.
Both the number and market cap of the Zhongguancun listed companies are set to increase this year, said Yin, president of the association, without giving exact figures.
"It is high time to accelerate IPO process in domestic stock markets so as to provide a bigger financing platform and make it easier to raise funds for companies in strategic emerging industries," Yin said.