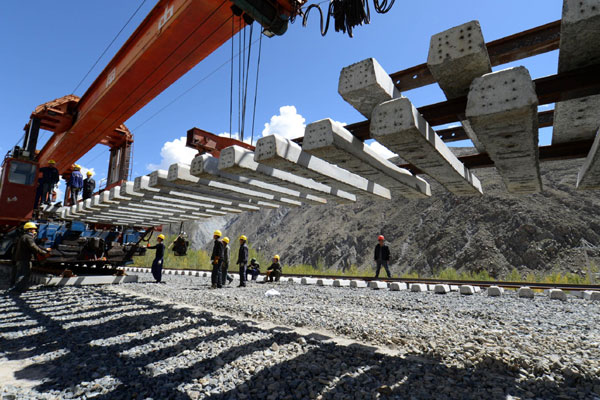 Workers are busy at a construction site of the railway linking Lhasa and Xigaze in Southwest China's Tibet autonomous region, September 24, 2013. [Photo/Xinhua]
BEIJING - China has accelerated railway construction to fulfill its annual targets in this area, new data has indicated.
Fixed-asset investment in the sector in the first eight months of 2014 amounted to 405 billion yuan ($65.83 billion), up 20 percent from a year ago, showed figures released on Tuesday by the China Railway Corporation (CRC).
The figure suggested China is more than halfway to hitting the expected 2014 railway investment, and marked the most rapid progress in rail in recent years.
The CRC said it has prepared enough capital for the remaining investment and is confident of meeting the construction targets based on the current progress.
At the start of 2014, China set targets of investing 800 billion yuan in railway construction, putting 7,000 km of railway into operation and starting construction on 64 new rail projects this year.
As of August, 46 of the 64 new projects had been approved and 14 railways had started operation, with the rest of the work expected to be finished on schedule.