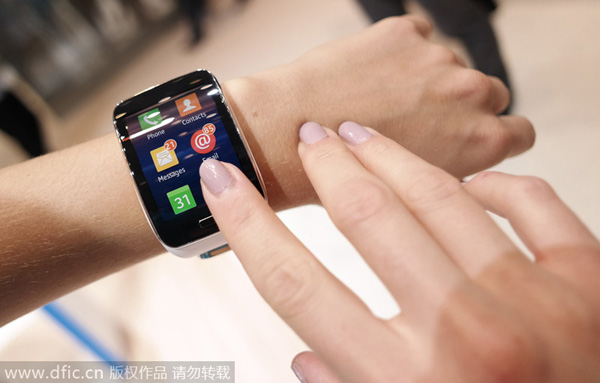 A trade fair hostess shows the watch Gear S at the Samsung trade fair stand on the third day of the electronics trade fair IFA in Berlin, Germany, Sept 7, 2014. [Photo/IC]
Apple Inc's iWatch is expected to be launched on Wednesday and kick-start the wearable device market.
The product will be Apple's first wearable device following Samsung's Gear S, Sony's SmartWatch series, LG's G Watch R and Motorola's Moto 360.
With slow growth in the cell phone market, manufacturers have begun looking to the wearable device market, China Securities Journal website reported Tuesday.
Analysts believe that in addition to cell phones, the smart watch can diversify products and help increase users' attachment to the phones' brand.
A research report from securities company Haitong Securities showed that wearable devices would be another profitable point for the electronics market.
It also estimated there will be 150 million smart watches, with a market value of $19 billion, by the end of 2018.
Earlier this month, Samsung launched its Gear S smart watch followed by Motorola's Moto 360.