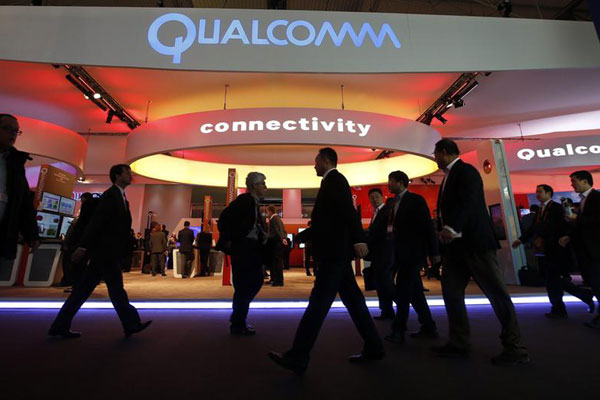 Visitors walk past the Qualcomm stand at the Mobile World Congress in Barcelona in this file photo taken February 24, 2014. [Photo/Agencies]
One of the biggest mobile chipmakers in the world lost $13 billion in market value due to negative impact created by an anti-monopoly investigation in China.
Qualcomm Inc's president Derek Aberle has admitted that the probe has had a negative impact on the company, according to 21st Century Business Herald on Saturday.
The report said the Wall Street darling's stock price closed at $73.72 on Thursday, falling more than 10 percent from the previous $81.6 - a loss of $13.2 billion by market value.
Meanwhile, Qualcomm's rating has been downgraded, the newspaper cited a recent report released by Stacy Rasgon, an analyst at the US-based investment management firm Sanford C Bernstein. Rasgon has been maintaining Qualcomm's buy ratings since 2009.
The growing cloud over the question of royalties from Chinese equipment manufacturers brings "reasonable doubt" to the long-term health of Qualcomm's licensing business, Rasgon was quoted as saying.
On July 24, it was confirmed that the chipmaker was facing accusations of overcharging license fees and abusing its market position in China amid an anti-monopoly investigation launched by the country's National Development and Reform Commission last November.
Qualcomm has allegedly been refusing to authorize big chipmakers in China like MediaTek Inc and Spreadtrum Communications, and was instead charging exorbitant patent fees from manufacturers using Qualcomm chips, Wang Yanhui, secretary of Mobile China Alliance, told the newspaper on Friday.
Patent fees, which include license fees and royalties, could reach up to six percent of a phone price, over and above the cost on the chips themselves, which form lion's share of Qualcomm's revenues.
The company's licensing business contributed up to 87 percent of its total profits before tax, the newspaper said citing Qualcomm 2013 fiscal report.