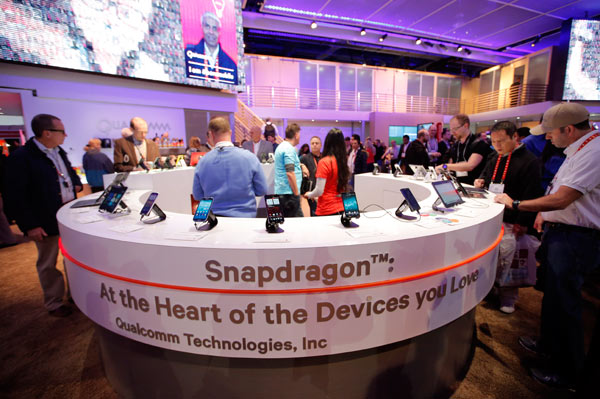 Qualcomm Inc's booth at the International Consumer Electronics Show in Las Vegas. Qualcomm reported $12.3 billion in revenue from China in the year ended Sept 30, which was equal to 49 percent of its total revenue. [Provided to China Daily]
BEIJING
- China's top economic planning body confirmed Wednesday that it is conducting an antitrust investigation into US mobile chip maker Qualcomm Inc.
The National Development Reform Commission (NDRC) said probe into Qualcomm started last year on complaints from Chinese industrial associations and lawyers.
These complaints accused Qualcomm of abusing its dominance in the wireless telecommunication copyright and cellphone chip markets.
Qualcomm was accused of unfair and discriminatory prices with unreasonable conditions, the NDRC said.
"The case is just a routine part of our work to maintain market order, and no specific body is targeted," the NDRC stressed when responding to media reports that the central government intended to break Qualcomm's dominance of the 4G market.
Qualcomm is the world's largest manufacturer of wireless telecommunication products, holding 40 percent of the market in China and 30 percent in the world.
Manufacturers using Qualcomm chips have been asked to pay exorbitant patent fees of up to six percent of a phone price, over and above the cost on the chips themselves.
The China Communications Industry Association filed a report with the NDRC at the beginning of this year complaining about Qualcomm's over-pricing, which they claim harms China's mobile industry.
In 2009, South Korea fined Qualcomm around $252 million for abusing its market position, the harshest punishment of its kind for a single company.
The NDRC said its preliminary investigation showed that to some extent, the accusations are well-founded but further investigation and analysis is needed.
In 2013, Qualcomm's revenue rose 30 percent to $24.87 billion, with $7.88 billion coming from patents.
More antitrust probes in the pipeline
Foreign suppliers dominate as chip use hits new high