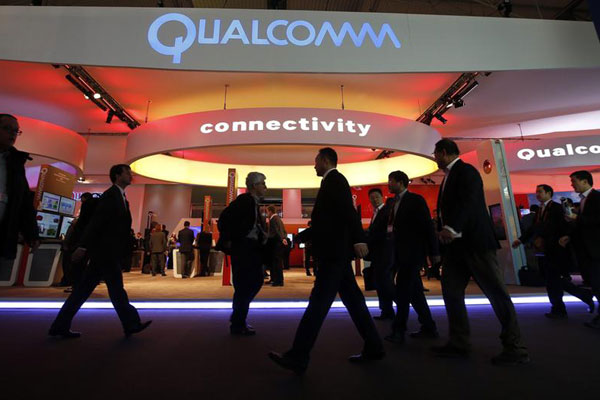 Visitors walk past the Qualcomm stand at the Mobile World Congress in Barcelona in this file photo taken February 24, 2014. [Photo/Agencies]
Qualcomm Inc plans to sell its first smartphone chips tailored to China this year, as the US maker of chips for high-end phones adapts to a market where growth is increasingly driven by low-priced handsets.
Three chipsets unveiled in February will appear in Chinese handsets before anywhere else, David Tokunaga, a senior director in product management, told reporters at Taiwan's annual Computex trade fair.
"The second half of this year will see our first products on the market that are really China-focused," Tokunaga said.
Qualcomm is the world's No 1 smartphone chipmaker by revenue, according to Strategy Analytics, and the majority of its chips end up in high-priced phones such as
Apple Inc
's iPhone.
But revenue in the company's last reporting quarter grew at its slowest rate since 2010, as sales of expensive phones slowed in developed markets while low-priced models with comparable features drove growth in emerging markets.
In China, the world's largest smartphone market by shipments, handset makers often prefer a specific type of chip configuration, known as Octacore, not commonly seen elsewhere.
"We've been a western company trying to take western ways into China, and now we're building something from the ground up in China," Tokunaga said, referring to the three China-bound chipsets which include Octacore.
The executive also said Chinese phone makers surprised Qualcomm with "aggressive" pricing of handsets equipped with the latest fourth-generation (4G) communications technology, a segment where Qualcomm's chips are particularly ubiquitous.
Tokunaga pointed to one 4G phone selling at 799 yuan ($130). That compared with the $335 average selling price of all handsets worldwide last year, according to researcher IDC - a figure IDC says will fall to $308 this year and $260 by 2018.
Low prices yield narrow profit margins, which for Qualcomm are likely to be pressured by competition from the likes of MediaTek Inc, whose cut-rate chipsets are popular with China's low-priced phone makers.
Even so, with low-priced smartphones widely expected to grow at a quicker rate than both high-end models and the market overall, adapting to the biggest growth segment is necessary, said Tokunaga.
"The way to really win in China for us is to be Chinese," he said. "In the past everything used to come from San Diego. Now things are coming from China and spreading to the rest of the world."