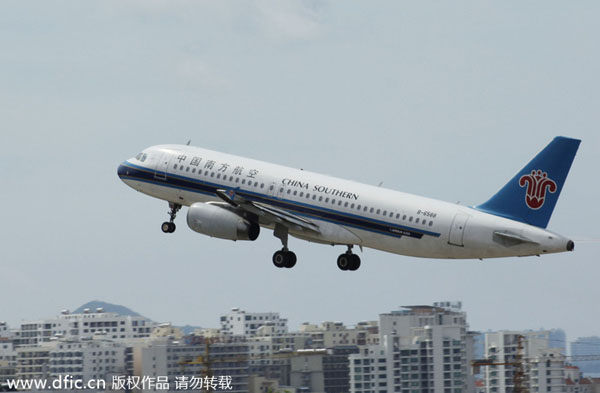 A plane of China Southern Airlines takes off at the Sanya International Airport in Sanya city, South Chinas Hainan province, April 29 2013. [Photo/IC]
PORT LOUIS - Mauritius Tourism Promotion Authority (MTPA) and China Southern Airlines (CSA) on Monday signed an a
gree
ment aimed at developing tourism.
The agreement signed in Port Louis will enable Mauritius to advertise itself through the Chinese carrier, while the latter will use Mauritius as a hub for its expansion in Africa.
"Our destination will be included in the company's campaigns on social networks and other campaigns that will be jointly conducted with China Southern Airlines in China. Next week, MTPA and CSA will be together in China, more precisely in Shenzhen, Chengdu and Hangzhou, for a roadshow aimed at creating visibility for Mauritius and attract more Chinese visitors to the country," MTPA director Karl Mootoosamy said.
"We want to expand our flights to the African market and the Indian Ocean region, and Mauritius will be the gateway," said Zhang Jianmin, CSA vice-chairman.
He expressed his desire to add a second flight to Mauritius before the end of September.
Mauritius became the first African destination to be served by China Southern Airlines, one of the biggest airlines in China.