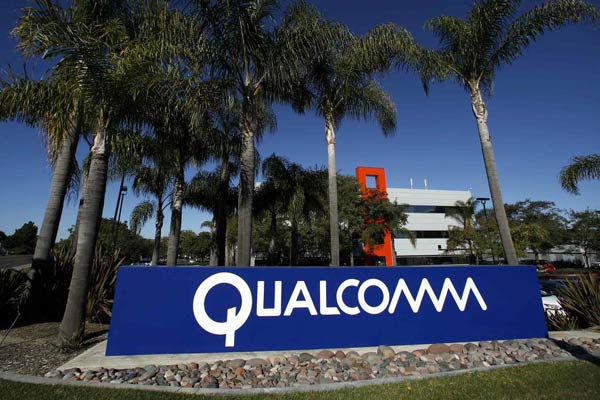 A Qualcomm sign is seen at one of Qualcomm's numerous buildings located on its San Diego Campus, in this February 7, 2011 file picture.  [Photo/Agencies]
Qualcomm could face penalties of up to 10% of its mainland revenues
China's antitrust regulator will soon announce that Qualcomm has monopoly status in the mobile chip market, an official from the National Development and Reform Commission said on Thursday.
Xu Kunlin, director of the price supervision and antimonopoly bureau under the NDRC, told China Daily that its investigation regarding the US chipmaker is near an end and will be made public "very soon".
Xu did not disclose what kind of penalties may await Qualcomm.
Steve Mollenkopf, chief executive of Qualcomm, was on his third trip to China on Thursday since taking over as CEO in March.
He declined to comment on the matter because the decision has not been officially announced.
Wang Xiang, Qualcomm's China head, said, "We have nothing to say at this point."
Bryan Wang, principal analyst at Forrester Research, said a cash penalty is the mostly likely option for the NDRC.
"The nation cannot fully abandon Qualcomm's highend chips as yet, which makes other sanctions such as sales bans less likely," he said.
The anti-monopoly law allows industry regulators to impose fines up to 10 percent of a company's revenues in the previous year. Qualcomm earned $12.3 billion in China in its last fiscal year, which ended in September.
The sum represents nearly half of the company's global revenue.
Bryan Wang estimated the company could face the maximum fine this time, which could exceed $1.2 billion because of Sino-US security fights.
"Government agencies would not easily raise a charge against an overseas giant and then subsequently drop the case without announcing a punishment," Wang said.
On the same day the NDRC official said Qualcomm would be deemed a monopoly, the company announced a $150 million investment project aimed at Chinese startups.
"China has become a significant portion in handset manufacturing and development. That's a major reason for us to announce a new venture investment," Mollenkopf said.